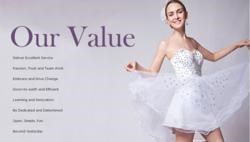 (PRWEB) August 31, 2013
Dresses1000 is a professional supplier of special-occasion dresses for women. Today, the company has updated its collections of pink Quinceanera dresses and plus size prom dresses, and launches a promotion for these dresses, up to 60% off.
Dresses1000.com has much experience in the dress industry. For the company, the attraction of the online store as a platform for selling dresses has been the main driver of growth over the past five years. According to Sherri Wang, CEO of the company, all one has to do is to visit Dresses1000.com and get up to 60% off the purchase.
"We are excited to launch this promotion. At Dresses1000.com, quality doesn't always come with high prices. Moreover, there are many suggestions on our website for fashion," says the CEO. "Please browse through our catalogue and pick the perfect style for you. All our dresses can be personalized according to the client's need without any extra cost."
In addition, the company is providing a full range of of vintage evening dresses, designer Quinceanera dresses, trendy wedding dresses and more at discounted prices. This is a huge benefit that saves a lot of time and allows customers to easily find the best possible shopping experience.
About Dresses1000
As a well-known online store that offers women's dresses, Dresses1000 aims to 'make women more beautiful' by providing trendy and high-quality women dresses to each customer. Superior customer service, high quality, fast delivery, and competitive prices, are the reasons to choose Dresses1000.
For more information, please visit: http://www.dresses1000.com.