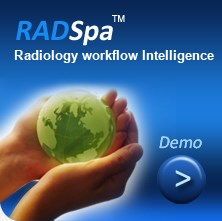 New Haven, CT (PRWEB) August 31, 2013
Telerad Tech a leading global provider of radiology workflow intelligence systems- RADSpa™, recently announced its entry into Brazilian markets. The agreement is signed with a teleradiology provider in Brazil and will provide them with increased efficiency and allow for rapid market penetration.
RADSpa™ till date has more than 70 installations worldwide. During its penetration in USA, Telerad Tech observed a huge need for a teleradiology workflow system such as RADSpa™ due to the low Radiologist density in the market. Telerad Tech has been enabling radiology groups to scale their business in multiple geographical regions. Presently, Brazilian markets are also experiencing acute shortage of radiologists in non -metropolitan areas. Such shortage is developing socio-economic inequalities in healthcare delivery. With this strategic partnership, the technology available with Telerad Tech will help the Healthcare segment of Brazil in providing customers with quality patient care. Thus, the contract will help to serve the emerging Brazilian teleradiology market with a full scale and secure solution.
Mohan Mysore, VP of Sales and Marketing, South and North America was recently presented as a key note speaker at the 4th edition of the Health Forum Digital, event held on August 14, 2013 in São Paulo, promoted by IT INSIDE magazine and organized by Converge Communications. He said, "Emerging markets like Brazil are well poised to absorb the latest healthcare technologies from USA. The volume of studies in various hospitals here make it even more suitable for such technologies like RADSpa™ which reduce costs and improve workflow efficiency. We are thrilled to partner with local partners to grow this business."
Ricky Bedi, CEO Telerad Tech also conveyed, "Telerad Tech has a great opportunity to revolutionize the teleradiology practice throughout the world through our leadership in technical innovation and operational efficiency. We represent among the most comprehensive and integrated teleradiology workflow platforms available in the industry, conceptualized as a global solution and easily adaptable to regional workflow and languages."
About Telerad Tech Pvt Ltd
Telerad Tech, the technology and services arm of its parent company "Teleradiology Solutions Pvt Ltd" (http://www.telradsol.com/, rated the No 1 National Teleradiology Provider in USA by KLAS 2011), builds workflow enhancing products with built in image management capabilities for: radiology imaging, clinical imaging, telemedicine and dental imaging. Telerad Tech's flagship workflow improvement productivity solution- RADSpa™ has over 70 installations worldwide. RADSpa™ is a unique cloud-based imaging workflow intelligence system designed to improve communication and collaboration among physicians, technologists, IT staff and institutions. For press inquiries, please contact Mohan Mysore at 763.244.1263, additional information on Telerad Tech is available at: http://www.teleradtech.com