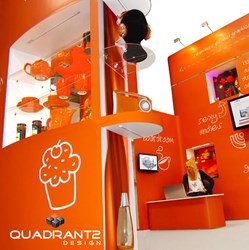 Quadrant2Design has announced the launch of lockable show cases in its flagship Prestige Events System.
Poole, Dorset (PRWEB UK) 31 August 2013
Poole based exhibition stand designers, Quadrant2Design has announced the launch of lockable show cases in its flagship Prestige Events System.
The new product fits in seamlessly with the existing prestige exhibition system infrastructure and panoramic graphics, providing a highly secure area to display valuable items.
The product has already seen strong interest from retail buyers looking for an innovative way to showcase potentially high value items alongside brand imagery.
The Prestige Events System, Quadrant2Design's flagship product, is unique in being both a flexible and modular exhibition stands system; capable of being reconfigured into multiple stand configurations to suit the rapidly changing requirements of customers.
For instance, the Prestige system can be used for a press conference, then re-configured for a product launch or exhibition stand. Quadrant2Design believe the integration of lockable showcases will further improve the systems adaptability in providing events marketing solutions to clients looking to showcase valuable items in an attractive environment.
In particular the lockable showcases are aimed at the retail market, where conventional outlets, pop-up shops or product showrooms will now be able to perfectly showcase their products to their consumers alongside their branded graphics.
The ability to display potentially high value products securely, alongside powerful graphics, will therefore act as an extremely valuable tool in retailers marketing strategies.
For example, a major Swiss luxury watch brand have already taken advantage of Prestige lockable showcases to display highly valuable watches, proving both the quality of the security as well as the high impact the Prestige Events System can project with leading brands.
Managing director of Quadrant2Design, Alan Jenkins, said: "The Prestige Events System is designed with flexibility in mind. The introduction of lockable showcases extends the capabilities of the system even further in the retail space. We are very excited to now be able to offer a system that is perfect for displaying high value retail items integrated into their custom designed exhibition stand."
For further information, please contact a Quadrant2Design Design Consultant: phone +44 (0)1202 650 333 or email designteam(at)quadrant2design(dot)com .