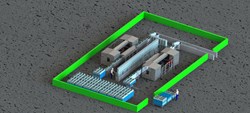 We have a commitment to continuous improvement and innovation, which is focused intently on giving our customers the safest HPP solutions possible
White Pigeon, MI (PRWEB) August 31, 2013
HPP is not rocket science, but there is a science to high pressure pasteurization. There is trial and error to hydrostatic testing your food related products. Just ask anyone in the HPP community today and you will find that the phrase, "I wish I knew that before we started," to be highly common. All Natural Freshness (ANF) would prefer to work with food manufactures before, "I wish I knew that before we started," but are glad to lend a hand at anytime in the process.
HPP is a new emerging technology that cold water that surrounds your favorite foods with plain water in the high pressure processing machine. The machine then pressurizes the water to incredible pressures… up to 87,000psi! HPP is a very promising in ensuring microbial stability of the products as well as in preserving its freshness and nutritional properties.
With the fierce competitions in the food industry, food companies keep pushing themselves to deliver differentiated product in the market. With High Pressure Processing, food companies can deliver a premium product that is fresher, safer, and healthier with an extended shelf life that in many cases can be double or triple the existing shelf life before HPP. Many food companies have various goals through production, new product development, marketing, merchandising, distribution, supply chain management, and customer chain management that an effective and efficient HPP plan help the realize. All Natural Freshness brings the HPP consulting that starts with asking food companies to define their goals and objectives with regard to their strategy in the market place. "By identifying and understanding our customers' needs we can best work together to come up with a strategy of how High Pressure Pasteurisation may fit into their plans and how it will affect their operations," stated Gerald Ludwick, CEO of All Natural Freshness.
All Natural Freshness has the tools and resources to assist in the following:

Product Taste, Texture, and Survivability of Pre and Post Package High Pressure Processed Product
- Dairy Product such as Milk, Cheese, Yogurt, and Colostrum
- Fruit products such as Oranges, Mandarins, Grapefruits, Mangos, Pineapples, Lemons and Limes
- Juice and Beverages such as Apple, Orange, Strawberry, Pomegranate and blended juices as well as other beverages like Smoothies, Coconut Water, fruit drinks and vegetable juices
- Meat products such as beef, cold-cuts, cooked meats, cured meats, marinated meats and many other Ready-To-Eat products
- Grains such as White Rice, Barley, Corn
- Seafood products such as Salmon, Lobster, Crab, Oysters, Shrimp
- Wet salads such as Macaroni salad, Potato salad, Chicken salad, and a wide assortment of dips
Packaging – If you don't know High Pressure Process packaging, get used to hearing about "Breaches" Cesar crop out the sink
- Supply packaging materials that are HPP'able.
- Supply the equipment that makes the package for HPP.
- Consult for a fee on existing packages and what improvements needed for HPP.
- Supply focus on flexible films, bottles, lidding stock, and some containers.
- Equipment focus on thermoformers, lidding machines, filling dairy/sauce/hummus/guac
- Pre Package HPP Processing
- Post Package HPP Processing
Automation Solution
Process and Procedure
- Training
- Certification of Operators and Maintenance Staff
- Integration
- Operation
Management
Recipe generation
HPP tolling service
Equipment sale and service
Machine inspection and failure resolution solution
The above items are inevitable processes for both HPP entry food companies and existing HPP machine owners which is the most noninvasive to a company's existing production environment. Increased customer safety, increased food quality, increased productivity and innovation are of the utmost importance in the competitive landscape of today's global food supply chain. "We have a commitment to continuous improvement and innovation, which is focused intently on giving our customers the safest HPP solutions possible," states President, Gerald Ludwick.
About All Natural Freshness
All Natural Freshness provides End-to-End HPP Solution in terms of HPP machine, HPP operation, consulting service, HPP packaging, material handling, tolling program, and recipe validation to deliver a premium All Natural product with a fresher, safer, and healthier shelf life. All Natural Freshness' goal is to bring HPP to the masses by providing solutions that allow companies to have "the lowest cost per pound with the fewest touches possible. For more information, visit http://www.allnaturalfreshness.com.