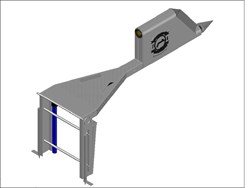 Bedford, Massachusetts (PRWEB) August 31, 2013
Boston area patent attorney Dave Karasic, founder and Chief Counsel of Patents Etcetera, a Boston area intellectual property and product promotion firm, and inventor Bobby Grantham, are pleased to announce an offer of licensing opportunities for the building and marketing of the Grantham MechVent™, the innovative pre-entry firefighting attack tool shown on Canadian Discovery Channel's Daily Planet show.
Without resorting to the use of expensive alternate materials, the latest design of this firefighting tool (Patent Cooperation Treaty approval pending), is more compact in size and weighs almost 30% less than the one shown on the Canadian Discovery Channel's Daily Planet show.
The MechVent™ provides a means to remove the smoke and heated air from a burning compartment without the requirement that a firefighter be physically in the building. Incorporating this functionality incurs the advantages of improved visibility inside the building, while limiting the possibility of the occurrence of flashover events resulting from the accumulation of excess heat in the burning compartment. The negative pressure ventilation capability by way of the MechVent™ hydraulic ventilation feature handily accomplishes these goals.
The device, developed with R&D funding provided exclusively by Patents Etcetera, has been demonstrated on the Canadian Discovery Channel's Daily Planet show. During the Daily Planet expose of the MechVent™, the different capabilities of this genuinely novel and unprecedented breakthrough in firefighting technology were demonstrated. The MechVent™ can be mounted at the top of a ladder and then put into position in the window of a burning building, and then controlled entirely from outside of the burning building and left unattended thereafter, without putting the firefighting crew in jeopardy. Another innovation incorporated into the Grantham MechVent™ is its firefighter escape platform to facilitate emergency exit from a burning building by a firefighter. Finally, the Grantham MechVent™ is able to apply enough water to suppress the flames in a burning compartment without flooding it with so much water that it compromises the building's structural integrity, accomplished by a rotating nozzle delivering only 9 gallons of water per 10 second burst.
Please contact Attorney Dave Karasic with any questions about the licensing of this revolutionary firefighting tool for production and sale in any and all PCT member countries.