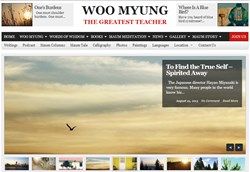 It is my hope that all people in the world will discard their selves and live as complete people.
Sunnyvale, CA (PRWEB) August 31, 2013
Cham Books of USA and Cham Publishing of South Korea have launched websites for Woo Myung, the founder of Maum Meditation and Amazon Bestselling Author of "Stop Living In This Land, Go To The Everlasting World Of Happiness, Live There Forever."
As the author of numerous bestselling books about Truth, Woo Myung is also the creator of the subtraction method taught in Maum Meditation, which he founded in 1996. Much of his time is spent teaching people all over the world about Truth and human completion.
Both websites, http://www.woomyung.org and http://www.woomyung.com display the writings and artistic works of Woo Myung. Evidence of the direct impact his teachings and 7-step method of subtraction have had thus far on mankind can be found throughout the websites.
Realizing His Destiny to Teach the Truth
As Woo Myung states in his #1 Amazon bestseller, "Stop Living In This World, Go To The Everlasting World Of Happiness, Live There Forever," A constant riddle in my mind was the fact that we had to die after living this way - as well as where we come from, why we live and where we go after we die. I also pondered why we all come into the world but only some people become saints, while others such as myself are just ordinary people."
The answers to these questions only came to Woo Myung after he achieved the Truth. He then realized that anyone can become Truth if they discarded their selves, and he began to ponder on the best method possible to teach others to also become the Truth.
"In order to teach people, there needed to be a method. I studied this question from the perspective of ordinary people, and meditated diligently."
He no longer needed to cleanse his own mind, but he meditated even harder, eventually resulting in Maum Meditation's seven levels of methods.
To this day he continues to study, write, and give speeches on these questions.
Woo Myung is known for being a spiritual leader who works harder and meditates more diligently than the students who come to learn from him.
Perhaps this is because he knows better than anyone the reason people are born and given precious life, and why we must not fail to become the Truth.
For him, the moment when all people in the world become the Truth cannot come soon enough and he makes full use of each moment of every day to this end.
Woo Myung once said, "It is not my purpose to make disciples. I am here to make masters."
He was referring to the fact that anyone can become the Truth when they meditate according to the Maum Meditation method and his teachings.
Ensuing results of the meditation have shown the universality and accuracy of the method. It also carries the meaning that those who have become the Truth can become masters who can guide others to the Truth.
About Woo Myung
As a result of years searching for a way to achieve human completion, Woo Myung founded Maum Meditation with its 7-level method to discard the human mind. He has since dedicated his whole life to helping people of the world to discard all of their human minds so that they can live completely with the mind of the Universe.