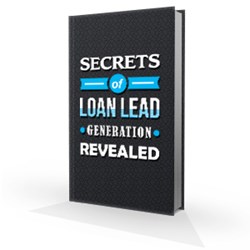 I recommend this eBook for anyone who wants to successfully loan money to consumers.
Kansas City, MO (PRWEB) August 31, 2013
Lead generation companies have its fair share of practices that some would rather keep hidden. Loan lead generation is a challenging environment, both for buyers of leads and for marketers who generate leads. From behind the curtain of the industry fastest growing lead generation company comes insights that every lender should know, especially in today's hyper competitive and compliance oriented landscape.
Even before the advent of marketing, companies have relied on new leads for growing their business. Internet helped scale and accelerate a business's ability to both stimulate and capture demand. Doing so at scale meant a deep understanding of their conversion funnel and knowing how to track and ultimately value clicks, calls, or leads. Certain organizations have that as part of their DNA, while others need to rethink their business operations if they want to make scalable marketing work.
As if loan lead generation was not tough enough, we are now entering into a new regulatory environment, which could prove even more challenging. Because of the changes already in place and those upcoming, lenders will want a completely transparent relations with lead vendors. The stakes are simply too high. As a lead generator, it means understanding how lenders are held accountable beyond performance metrics in order to make sure your business deserves a place in their budgets.
No one has ever said generating inquiries is easy. The real work, though, begins once that inquiry is in the hands of the business with whom they could do business. Anyone that has worked with inquiries can attest to the challenges faced in turning prospects into customers. While no magic answer exists, if you are struggling to turn inquiries into customers, you might be ignoring one of these three fundamental reasons why leads don't convert.
You have heard the rumors about what goes on in to generate loan leads, request the free "Secrets of Loan Lead Generation" eBook at http://www.leadsmarket.com/secrets-of-loan-lead-generation.aspx and learn the FACTS.