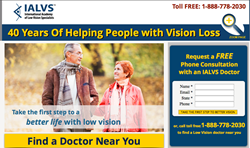 "This new website has a dual target seniors and their caregivers. The dual target is very common when marketing geriatric healthcare." - Tracy LeRoux, Founder The Link Agency
Barrington, RI (PRWEB) August 31, 2013
The Link Agency is pleased to announce the launch of a standalone website, LowVisionEyeDoctors.com, dedicated to educating consumers about low vision and low vision solutions. The site was created for client, The International Academy of Low Vision Specialists, to serve as an online resource for people with vision impairment due to macular degeneration, diabetic retinopathy, glaucoma and other eye conditions often associated with aging. The initiative aims to answer questions that those with low vision, in addition to their loved ones and caregivers, may have by addressing its causes and warning signs, as well as vision-enhancing devices and medical solutions.
The website design is fully functional for low vision users. It offers an easy-to-navigate layout and incorporates several specialty functions, including font size and contrast buttons, a doctor locator called "Find a Low Vision Specialist" and extensive online Resource Lib Guide.
The launch is part of a fully integrated campaign including consumer advertising, optometrist recruitment and online CRM targeting consumers and providing them with information about low vision, coping mechanisms and the availability of low vision products.
"We have been fortunate to work with the IALVS since 2007 and are very pleased with the direction of this new campaign," states Tracy LeRoux, Founder of The Link Agency. "This website has a dual target - seniors with vision limiting conditions and their caregivers which is very common when marketing geriatric healthcare," says LeRoux.
To learn more about The International Academy of Low Vision Specialists' new website or The Link Agency, contact Ana Cabrera, Director of Marketing and Communications, at ana(at)thelinkagency(dot)com or visit http://www.LowVisionEyeDoctors.com or http://www.TheLinkAgency.com.
About The Link Agency:
The Link Agency, Inc. is a national advertising and marketing communications firm located in Rhode Island and offering scalable marketing solutions to help businesses and non-profits grow.