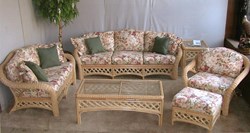 Dealing with Annie's Wicker has been a pleasant online shopping experience. Real people who respond to your emails and telephone calls promptly; go out of their way to please you.
(PRWEB) August 31, 2013
Annie's Wicker, an online retailer of patio furniture, indoor and outdoor wicker furniture and wicker accessories, announced today that they are adding new natural wicker and rattan furniture and accessories just in time for fall deliveries. Rattan and natural wicker items for every room will be available for easy online purchase. They will be introducing new indoor seating sets and dining sets made of natural wicker and rattan. As with their outdoor seating, all cushions are custom made to order and can be purchased with or without the seating, just as any standard seating furniture can be purchased with or without cushions.
This will be the largest addition to inventory for Annie's Wicker since the launch of their new website last year. New additions include wicker and rattan bed and bath furniture and accessories such as mirrors, dressers, medicine cabinets and towel racks. Wicker and rattan lamps have always been popular, and Annie's Wicker will be adding twenty or more lamps to their online store.
Shoppers will be able to choose from table lamps, floor lamps and barrel lamps. Most items are available in more than one finish. Lamps will be available in various shapes and sizes, such as hexagon, basket weave, jar shaped and even scalloped hanging shade lamps. All lamps are wired and UL approved when using with a maximum 100 watt bulb. A lattice door buffet, corner stands, several TV cabinets and desks will also be available for fall orders.
About Annie's Wicker, LLC:
Annie's Wicker offers outdoor resin and wicker furniture designed and imported from leading manufacturers. The manufacturers use the highest quality materials in the construction of these goods.
For more information about Annie's Wicker, or to start shopping for the upcoming season, visit Annie's Wicker Furniture and Accessories.