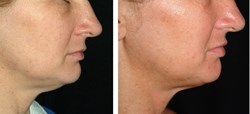 (PRWEB) August 31, 2013
The Thermage® Total Tip 3.0 is a more effective treatment tip providing patients with greater results in their face, jowls, neck and body. The Total Tip delivers as much as two times greater bulk heating volume which allows more tissue to be heated to higher temperatures, delivering better results. Thermage uses radio frequency technology to smooth and contour the skin and reduce the appearance of cellulite in a single treatment. Both early and long-term results are delivered non-invasively. Thermage, a long time leader in the industry, has over 10 years of technological refinement.
Precision Aesthetics is New York's only Thermage Black Diamond and PInnacle provider for over 6 years. It was the first with every new release going back to 2007 with the introduction of the NXT. Precision Aesthetics also introduced the 16.0 handpiece and the vibrating technology for greater patient comfort. Dr Lisa Zdinak, the Medical Director of Precision Aesthetics, is an International physician lecturer for Thermage.
Precision Aesthetics currently offers a wide variety of non surgical body shaping options, including Exilis, Cold laser technogies, like, Illumiwave Lipocontour 635, as well as acoustic wave. The Thermage total tip has made it that much more important for patients to seek the absolute most qualified and experienced technicians.
Ironically one of the most popular procedures in Hollywood is to inject fat and stem cells into the face for the everlasting look of youth. The face is an area where very few can afford to lose fat. As we get older we are losing fat in the face. The whole point of a thermage facial is to lightly stimulate the growth of more collagen in the face to simulate the look of youth when we have abundant collagen. Most patients need only a slight reduction of fat along the jaw line or under the chin. Popular websites are full of complaints from people who have spent very little money on thermage and lost volume in critical facial areas. Many of the newest procedures involving ultrasound and radiofrequency provide powerful forces that can make extreme changes to your body and face.
Precision Aesthetics is located at 10 West 74th st at Central Park West. It has become popular with the locals as well as the International crowd, Dr Zdinak travels the world in search of the latest technologies to bring to her patients in New York.