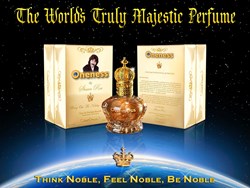 Eau de Parfum Royale is the official classification of the Oneness Brand which indicates the exact range of perfume oil percentages without there being any ambiguity. The Oneness Team invites other fragrance houses to employ this classification.
(PRWEB) August 31, 2013
The Oneness Fragrance Board has decided to move ahead with an augmented campaign directed toward audiences that are knowledgeable about perfume concentrations. This sophisticated group of men and women are interested in not only what the fragrance smells like but in how long it will last after its initial application. The Oneness Board is additionally pleased with the public response to Shawn Rae as the Brand Ambassador due to the excellent response to the new 30 second Oneness fragrance commercial (http://www.youtube.com/watch?v=0wmH5FQZapg). The YouTube views alone will shortly surpass the one million mark.
The Board also decided to move forward with its Oneness Sport version of the scent, a Parfum de Toilette, for the growing number of athletes in its fan club. The Parfum de Toilette will have a longer lasting effect than most others in that category due to its perfume oil concentration. When an individual is actively involved in sports it is convenient to have a fragrance that doesn't require constant applications.
The various industry fragrance classifications are titled to reflect the amount of perfume oils that are contained within the particular fragrance's formula. Perfume oils are also referred to as essential oils and/or as the aromatic compounds found in the fragrance. The quantities of essential oils in a fragrance measure its ability to have longevity after application. The intensity of a fragrance is also revealed by the concentration levels of those same aromatic compounds. So, the concentration levels indicate that as the percentage of aromatic compounds increase, so does the perfumes intensity and its longevity.
This understanding has created specific terminology to somewhat standardize a fragrance's approximate concentration by the percent of perfume oil in its blend. This standardization, however, is still a bit vague and/or imprecise in the industry. A list of common classifications with their percentages is as follows:

Parfum Extract - This is the strongest level of perfume, with a 15-50% concentration of perfume essence. (Standard: 20%)
Esprit de Parfum - This level is a seldom used, a 15-30% concentration of perfume essence, in between Perfume Extract and Eau de Parfum.
Eau de Parfum - This has less perfume essence compared to Perfume Extract, with a 10-20% concentration of perfume essence. (Standard: 15%)
Eau de Toilette - This is the level of perfume usually ideal for everyday use, with a 5-15% concentration of perfume essence. (Standard: 10%)
The definitions above allow one to see the discrepancies possible when purchasing a fragrance as one attempts to determine by its classification the intensity and therefore the longevity of the particular fragrance. The Oneness Fragrance classification, Eau de Parfum Royale, is significant because it contains over 30% of perfume oils in its unique blend. This classification, by industry standards, easily falls under the Parfum title.
Eau de Parfum Royale is the official classification of the Oneness Brand which indicates the exact perfume oil percentage without there being any ambiguity. This classification title ensures the wearer a long-lasting, intense fragrance and an exact reference to the quantity of essential oils contained in the blend. It is likely that many other fine fragrance houses such as, Boucheron, Cartier, Chanel, Givenchy, etc., have fine fragrances that also employ over 30% essential oil components and can use this same classification for better market segmentation. The Oneness Team invites other fragrance houses and brand experts to employ this classification to allow their clientele the same concrete and fair understanding of what their fragrance truly represents and it will also allow the fragrance industry to be more precise and responsive to their customers.
Oneness Fragrance was created by Shawn Rae, a humanitarian, speaker and international recording artist. It is a universally appealing award winner for the senses; this unisex sensation is irresistible to both women and men alike, as it indelibly leaves one with its timeless message and unforgettable signature. View the fragrance website at:http://www.OnenessPerfume.com.
In all of his endeavors, Shawn is committed to share his resources, time and effort in supporting causes that alleviate homelessness, hunger, disease and despair.
More info: Shawn Rae Video Bio 2013: http://youtu.be/jBt9I3g362Q and at http://www.ShawnRae.com.