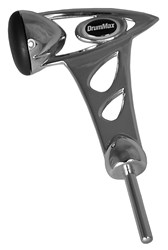 Drummers love this bass drum beater.
Indianapolis, Indiana (PRWEB) August 31, 2013
After launching "The Bullet" bass drum beater at the Summer NAMM show in mid-July, DrumMax released a new video on YouTube, showing reactions to the beater by drummers who have experienced the beater in person.
The Bullet features an innovative design with a shorter shaft and added weight, making it faster and more powerful than standard bass drum beaters. Plus, its aerodynamic design adds a "cool factor" to the mix.
The video shows drummers trying out the bass drum beater and sharing their reactions to it. "Drummers love this bass drum beater," said DrumMax President, Susan Baroncini-Moe, speaking from the DrumMax offices in Indianapolis, "It provides them with a lot more control than they're expecting. There are a lot of people who are excited about this product—it completely evolves the bass drum beater market."
The Bullet is available from DrumMax's web site, http://DrumMax.com and at limited retailers around the United States. DrumMax is currently seeking additional retailers to carry the beater, as word spreads and more drummers are asking for the beater in their areas.
About DrumMax
DrumMax is a custom drum building company based in Indianapolis, Indiana. The company is run by Leonardo Baroncini. Baroncini, a drummer with a professional career spanning thirty years and three continents, who is originally from Uruguay, moved to the United States in 2009 to marry his wife, Susan, who runs the business offices at DrumMax. For more information, see http://drummax.com.