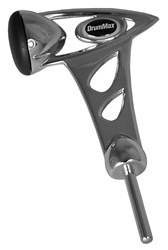 We're happy to have partners that encourage innovations and encourage new ideas and new musicians.
Indianapolis, IN (PRWEB) August 31, 2013
After launching "The Bullet" bass drum beater at the Summer NAMM show in mid-July, DrumMax announced today that they will be conducting a clinic at Mom's Music in Louisville, KY on Saturday, September 21, 2013.
The Bullet features an innovative design with a shorter shaft and added weight, making it faster and more powerful than standard bass drum beaters. Plus, its aerodynamic design adds a "cool factor" to the mix.
"I'm excited to be presenting a clinic at Mom's. It's a great store with a long history," said DrumMax CEO, Leonardo Baroncini, speaking from the DrumMax offices in Indianapolis, "We're happy to have partners like Mom's Music, that encourage innovation and are excited to explore new ideas in music, as well as young musicians."
The clinic for drummers will feature The Bullet bass drum beater and will be held on Saturday, September 21, 2013, at 1:00 PM Eastern at Mom's Music, 1900 Mellwood Ave., Louisville, KY 40206. Questions may be directed to Mom's at (502) 897-3304 or to DrumMax at (317) 438-5502.
About DrumMax
DrumMax is a custom drum building company based in Indianapolis, Indiana. The company is run by Leonardo Baroncini. Baroncini, a drummer with a professional career spanning thirty years and three continents, who is originally from Uruguay, moved to the United States in 2009 to marry his wife, Susan, who runs the business offices at DrumMax. For more information, see http://drummax.com.