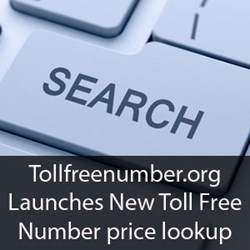 The Virtual Telecenter provides all the functionality of a big business phone system, at a fraction of the cost.
Irvine, CA (PRWEB) September 12, 2013
Tollfreenumber.ORG, an United States-based company that has served over 100,000 business by providing affordable toll free numbers has re-announced their virtual telecenter system.
This new system, which is available through their redesigned site, offers unlimited toll free service for one low monthly fee. Toll free specialists are citing this as a unique and lucrative opportunity for businesses and individuals alike to boost their marketing power and earn extra income with their toll free number, even if they are operating on limited budgets and staff.
Tollfreenumber.org has been in business since 1999 and has become a leading name in the toll free industry in recent years. With rates that are already extremely competitive, the virtual telephone system is speculated to further increase the growth of this major toll free number service provider. The telecenter itself features a wide range of benefits including: multiple extensions, call forwarding, call transfer, voicemail, virtual PBX, personalized greetings, after hours greetings, customized on hold music, and many others.
The telecenter is perfectly suited for smaller businesses or entrepreneurs, given that it eliminates the need for receptionist staffing and enables smaller companies to enhance their image and customer service quickly, while still remaining within budget. Many toll free analysts are recommending that those interested in obtaining a toll free number, and in the advantages that the telecenter can provide, visit the site as soon as possible as the supplies of toll free numbers are quickly dwindling and are expected to drop even further in upcoming months.
Tollfreenumber.ORG specializes in assisting small businesses by providing low-cost toll-free phone numbers that require no additional hardware and can be routed to any phone. Businesses can use the company's website to search for available custom phone numbers in the 800, 888, 877, 866 or 855 area codes. The company also offers additional business services through its Virtual Telecenter, which provides 24-hour live answering, among other services. Tollfreenumber.ORG is based in Irvine, Calif., and was founded in 1999. The company serves more than 100,000 customers throughout the United States.
For more information on getting a toll-free customized phone number for small business use, contact Tollfreenumber.ORG at 1-800-951-9411, or visit the company's website at http://www.tollfreenumber.org/unlimited-toll-free/ .