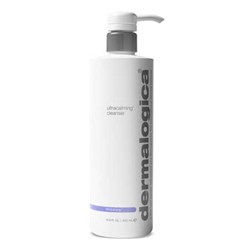 Rachel Goodyear, the Esthetician at DrSkinSpa.com, said, "Dermalogica Ultra Calming Cleanser does not leave any stinging or chafing residue on the skin."
Anaheim, California (PRWEB) September 03, 2013
DrSkinSpa.com gives discriminating customers doctor-recommended skin care solutions via a convenient e-commerce website. The company places it focus on anti-aging and natural skin care lines that have been scientifically proven to achieve optimal results. In addition to its already huge inventory of skin care products, DrSkinSpa is proud to announce the addition of Dermalogica Ultra Calming Cleanser to their product large line.
The Dermalogica Ultra Calming Cleanser is targeted for sensitive skin. The product is creamy, soothing, and gentle on the skin. This Dermalogica ultra calming gel-cream will soothe pollution-irritated skin, skin annoyed by climate extremes, cosmetic-irritated skin issues, harsh cleansers that have inflamed the skin, stress factors that damage skin, and hormonal issues. Though the cleanser is gentle, it is tough enough to also cleanse makeup from eyes.
The key, active ingredients contained in Dermalogica Ultra Calming Cleanser include lavender, Echinacea, and a raspberry extract. Lavender is a natural antiseptic and antifungal agent. It can diminish scars and speed up skin healing. Lavender is also an anti-inflammatory agent, enabling it to reduce skin redness and even out pigmentation issues (such as face dark spots) or blotchiness. It can also stimulate circulation of the body's blood flow, brining more nutrients and oxygen to the skin's cells. This increases the frequency of cell turnover, resulting in younger-looking skin.
The Echinacea in Dermalogica ultra calming cleaner also helps with inflammation of the skin and alleviates problems such as eczema, acne and rosacea. Echinacea has been used for centuries to help with inflammation and to boost the body's immune system. It will sooth and correct the most sensitive skin, also.
Dermalogica ultra calming purifier has raspberry extract for its inflammatory properties, too. Raspberries are high in Vitamin C and tannins, which are natural astringents. Raspberries also are high in anti-oxidants and essential fatty acids, making it an excellent elixir for aging skin. The raspberry extract also gives Dermalogica ultra calming product its pleasant fragrance, naturally. This extract reduces skin irritations and inflammation of even the most sensitive skin types.
Rachel Goodyear, the Esthetician at DrSkinSpa.com, said, "Dermalogica Ultra Calming Cleanser does not leave any stinging or chafing residue on the skin. It is formulated for the most sensitive skin and is made without artificial colors or fragrances."
http://www.drskinspa.com owned by Crescent Health Center, based in Anaheim, California, which is doctor-owned and -operated. This company has an A+ rating with the Better Business Bureau. DrSkinSpa.com gives customers free shipping, complimentary samples, a two-week money-back guarantee and a unique 120-day price protection guarantee in addition to consultations with their esthetician at no additional cost.