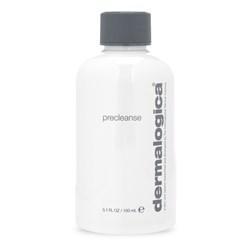 Rachel Goodyear, the Esthetician at DrSkinSpa.com, said, 'Dermalogica Precleanse is perfect for even oily skin!'
Anaheim, CA (PRWEB) September 21, 2013
DrSkinSpa.com provides its clients with a wide selection of doctor-recommended skin care products. Their fully functional e-retailing web site is convenient and user-friendly. The company's main focus is on anti-aging and natural skin care lines that have been scientifically proven to achieve optimal clinically proven results. In addition to its already wide inventory of skin care products, DrSkinSpa.com is now proud to announce the addition of Dermalogica PreCleanse to their product line.
Dermalogica PreCleanse is formulated to use prior to cleansing with the prescribed Dermalogica Cleansing Gel for deeper, more thorough results. Using the Dermalogica precleanse Double Cleanse Regimen will enable the regular cleanser to do its work more efficiently.
Using the Dermalogica Precleanse allows dirt, impurities, and makeup to be melted away. For complete removal of unwanted excess oils, tanning lotions, difficult-to-remove waterproof makeup, environmental toxins, and a build-up of skin products on the face, Dermalogica Precleanse uses natural ingredients. The ingredients that work to get the skin cleansed and prepared for professional grade cleansing include olive oil, kukui oil, and apricot oil. This is a hydrophilic formula that is mixed with water to form a milky mixture. With this milky substance, the dirt is easily rinsed from the facial skin. The skin's surface is now prepped for the Dermalogica Cleanser to further deep-cleanse and beautify the skin.
Dermalogica precleanse is made with Vitamin E oils and rice bran oils. This is a gentle mixture that can even be placed around the eye area, helping smooth eye wrinkles with its natural Vitamin E effects. This product will remove waterproof mascara that can often times be a difficult job to complete. It is formulated without added fragrances, artificial colors or soaps.
Desiree Torres, the Esthetician at DrSkinSpa.com, said, "Dermalogica Precleanse is perfect for even oily skin! When followed with the regular cleanser, the results are a deeply cleansed face you can compare with dermatologist results."
DrSkinSpa.com, owned by Crescent Health Center, is based in Anaheim, California. The company is doctor-owned and -operated and possesses an A+ rating with the Better Business Bureau. DrSkinSpa.com furnishes its customers with no-cost shipping, free samples, a 14-day, money-back guarantee plus a unique promise of 120-day price protection, in addition to free consultations with an aesthetician.