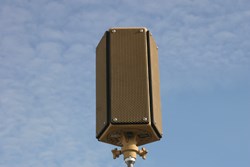 Our engineers consistently design and deliver the best HPSA systems based on weight, acoustic output and speech clarity.
Columbia City, Indiana (PRWEB) September 03, 2013
Ultra Electronics (USSI) announces it has entered into a supplier and manufacturing partnership with Edwards in order to provide HyperSpike® High Power Speaker Arrays loudspeakers and amplification equipment. HyperSpike® products will be utilized as a key component with the Edwards EST3-Sixty solutions for Emergency Communication Systems/Mass Notification Systems/Life Safety Systems (ECS/MNS/LSS) as well as non-emergency applications. Edwards is a business of UTC Climate, Controls, & Security, a unit of United Technologies Corp.
The industry-leading HyperSpike® loudspeaker and amplification solutions will be marketed as the HS Series HPSA through Edwards' various channels. HyperSpike® solutions deliver crystal-clear voice messages and alert tones which can be heard over extreme distances. The HyperSpike® HPSA product line is characterized by high power, lightweight, unmatched speech quality, and is aesthetically appealing to customers who want their loudspeaker solutions to blend in with the environmental background.
"Our engineers consistently design and deliver the best HPSA systems based on weight, acoustic output and speech clarity," said Patrick Allison, Head of Marketing and Sales of USSI. "The HyperSpike® technology, coupled with the world-class EST3-Sixty platform will give Edwards a significant technological advantage in the ECS/MNS/LSS markets."
About Ultra Electronics – USSI- is an innovative global supplier of highly intelligible, ruggedized, long ranges acoustic communication devices, and mass notification systems. Deployed world-wide, these products are used in diverse applications such as crowd control, border/port security, law enforcement, maritime security, perimeter protection, and more. To find out more or request a demonstration, please visit http://www.ultra-HyperSpike.com