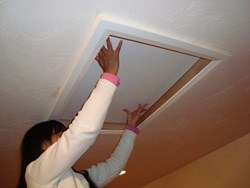 By Code the attic access (folding attic stairs or scuttle hatch) must now be insulated to minimum of R-30. How are you meeting Code?
Mansfield, MA (PRWEB) September 02, 2013
Due to the recent International Residential Code (IRC), International Building Code (IBC) and International Energy Conservation Code (IECC) changes, it may be difficult to select an attic access solution for residential / multifamily / apartment / condominium projects that meets these new Building and Energy Codes.
2009 IECC Section 402.2.3, 2009 IRC Section N1102.2.3 and 2012 IECC Section R402.2.4 reads: "Access hatches and doors. Access doors from conditioned spaces to unconditioned spaces (e.g., attics and crawl spaces) shall be weatherstripped and insulated to a level equivalent to the insulation on the surrounding surfaces." Energy Star Version 3 requirements conform with the 2009 IECC and 2009 IRC. The 2012 International Green Construction Code conforms to the 2012 IECC.
This means the attic access must now be insulated to the same level as the rest of the attic (min R-30).
Here are two attic access solutions that meet these new Codes and provide solutions:
1. E-Z Hatch R-42 Attic Access Door is an air-tight, high-performance, energy-efficient attic access scuttle door. It is R-42 insulated, triple-gasketed, and provides a finished 22x30" access opening. The kit comes complete with trim and is painted and ready to install. E-Z Hatch is an energy efficient alternative to energy wasting attic pull down ladders, and exceeds all Code requirements. Deluxe version is provided with a 4-point lock and handles. The lock may be keyed alike or different. Priced at $199 this is lower than the cost of a pull down ladder and the Code required insulated and gasketed stair cover. Click to view the install video.
Builder magazine, selected Battic Door from over 1,000 exhibitors to be profiled for the Best of Day 2 video at the 2013 NAHB International Builders Show January 22-24, 2013 in Las Vegas! View the video.
2. Battic Door R-50 Attic Stair Cover. When pull down ladders are preferred use an energy-efficient pull down ladder cover. The Battic Door kit includes the stair cover, gasket, reflective shield, and R-50 fiberglass insulation. The stair cover fits between trusses. Kits are available in 22x54, 25x54 and 30x54 sizes.
About the Author: Mark D. Tyrol is a Professional Engineer specializing in cause and origin of construction defects. He developed several residential energy conservation products including an attic stair cover and an attic access door. Battic Door is the US distributor of the fireplace plug. To learn more, visit http://www.batticdoor.com .