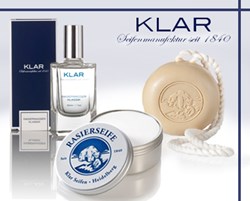 German quality and tradition at your discretion.
Toronto (PRWEB) September 26, 2013
In anticipation of the holiday shopping season, Kaliandee is proud to announce the addition of another reputable European brand to their store. Klar Seifen is a stand-out company in the world of soaps and shaving products. Not only do they have over 170 years of history and expertise in the manufacture of both luxury bath and shaving soaps, but most impressively, they have managed to keep their products and image fresh and relevant without losing touch with that history. With such impressive credentials, it was perhaps inevitable that Kaliandee, a company dedicated to providing men with the best high-end shaving and grooming products, would eventually stock a selection of Klar's finest.
Klar was founded in 1840 by master soap boiler Philipp Klar. In Phillipp Klar's day, apprenticeships were a much more respected and important way to learn a trade than they are today; Phillipp's quest for perfection as a journeyman took him as far as St Petersburg in search of soap making knowledge and skills. His efforts paid off, as not only has his legacy continued for five generations of the Klar family, but the manufacturing processes used by the company today are essentially the same as those used by Phillipp. The only significant change to the production techniques has been a move from animal fats to vegetable oils and from conventional palm oil to organic, sustainably farmed palm oil and olive oil.
In an interview which can be found on the Kaliandee website, John from Kaliandee learned a little about the provenance of some of the company's methods and recipes from Niels Klar, the visionary Managing Director behind Klar's current expansion:
"Today, we still use some very old molds and presses from the end of the 19th century and machines that have been in use since the second generation of our family business... We set great value on craftsmanship. Although we use some new machines (newest from the 1960s) within the production process, Klar's Shaving Soap for example is still cut and bottled by hand... We like to combine the old with the new. That's why we recently brought the most successful recipes of Klar's soap history back to life for our newest product line."
Klar's most popular product is their Classic Shaving Soap. The success of their shaving products is unsurprising, given their home market. German men never lost touch with traditional shaving products to the same extent as the men of the English-speaking world. Consequently, while shaving brushes and soaps slowly disappeared from drugstore shelves in many other western countries, there has always been a demand for them in Germany, allowing manufacturers like Klar to maintain an unbroken history of large-scale production of the highest quality shaving soaps. With the current renaissance in wet-shaving, Klar's have been able to use this expertise to build an excellent reputation with wet-shaving enthusiasts around the world, although in North America, they are still not as widely stocked as their London-based competitors.
One of the few non-soap products to come from Klar is their line of refreshing traditional aftershaves, in scents matching their shaving soaps. Although they are of the traditional alcohol-based type, they are formulated with glycerine so as to not overly dry out the skin. Kaliandee currently stocks the Sandalwood aftershave, as Sandalwood is a perennial gentleman's favourite, and personal choice of the owner.
As for the soaps themselves, all of Klar's shaving soaps lather excellently, perform well during the shave, and leave the skin with the smooth, slightly moisturized feeling that is the hallmark of the world's top-tier shaving soaps. Klar's are also notable as one of the few companies making shaving soaps for women. Their Olive Oil soaps, offered in Bergamot, Pomelo, Rosemary and Lavender, work excellently as both body soaps and shampoo, and condition the hair wonderfully, while their Classic 100g hand soaps are gentle, effective, and beautiful, even out of their vintage advertising-inspired packaging.
Located near Toronto in Canada, Kaliandee is a family firm, run by shaving enthusiasts with a breadth of knowledge in shaving and skincare. As well as providing a wide choice of shaving products, grooming hardware and traditional shaving sets, they also offer an expanding range of advice on all things grooming. Kaliandee currently has a free gift wrapping service, as well as free shipping for orders over US$75 or CAD$50.
For more information on wet-shaving and grooming topics, see Kaliandee's advice page or blog.