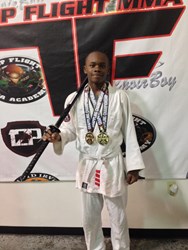 Its a great feeling being crowned a champion.
Belcamp, MD (PRWEB) September 30, 2013
This past weekend, BJJ and grappling promotion, the North American Grappling Association (NAGA), came back to Pennsylvania to put on yet another awesome competition for all the local BJJ and MMA schools to test themselves against each other.
Collectively, Kids and Teens from Top Flight MMA Academy, in Belcamp, MD, did extremely well, bringing back an abundance of "victors hardware". One teen in particular shined especially bright.
Sephen Smothers, in his first time at the intermediate division, won 3 divisions, winning 2 gold medals and one samurai sword.
On his way to accomplishing this rare feat, Smothers submitted all but one opponent, and was forced to fight up a weight division.
The young grappling phenom had this to say about his spectacular performance, "I'm excited and happy that won 1st place three times today. It's a great feeling being crowned a champion."
His coach, Joey Stallings, had this to say about Smothers, "I'm very proud of Sephen and his continual progression as a martial artist. He is a great student and I look forward to him doing great things in the sport and in life."
For more information on Sephen Smothers and the Top Flight MMA Teen/ Kids program email info(at)TopFlightMMA(dot)com or call 410-272-3799.