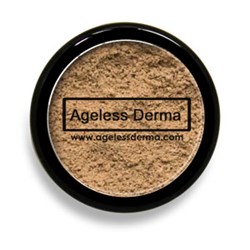 Rachel Goodyear, the Esthetician at DrSkinSpa.com, says, "This Ageless Derma Loose Mineral Foundation is just the right thing to liven up your skin!
Anaheim, California (PRWEB) September 18, 2013
DrSkinSpa.com, a high-quality retail skin care e-commerce site, sells superior anti-aging mineral cosmetic makeup, skin and hair brand name products. DrSkinSpa.com is able to offer healthy, anti-aging skin care solutions and products that are formulated via nature. The products sold through this web store have been clinically tested to be non-toxic and effective for a majority of aging skin and hair care needs. They carry a varied stock composed of the most-wanted natural anti-wrinkle cream, mineral cosmetic and anti-aging skin care solutions. The latest addition to the DrSkinSpa.com family of products is Ageless Derma Loose Mineral Foundation.
The Ageless Derma Loose Mineral Foundation is a mineral cosmetic that protects and replenishes the skin's health by fighting off free radicals that cause skin damage. This mineral cosmetic is not unlike an anti-wrinkle cream product that contains natural anti-inflammatories and anti-oxidants to fight free radical damage. The vitamins and green tea infusing this foundation enable this mineral cosmetic to bring back youth to the skin as it brightens the complexion.
This product is made up of pure natural minerals of the earth such as boron nitride and titanium dioxide. The natural minerals are light reflecting substances that make skin smooth and soft while radiating a subtle glow that seemingly comes from within the skin's surface. The mineral cosmetic loose foundation is light as air on the skin, with no heavy residue or greasy feeling.
The ingredients in this mineral cosmetic repel humidity, so it does cake, run, or streak, yet the skin is allowed to breathe and stay healthy. The product is a fine enough powder to be used in an airbrush, if so desired. The mineral cosmetic foundation can also be mixed with the Ageless Derma Mineral Mist for a liquid foundation; it can also be mixed with moisturizers for a creamier texture. This versatile mineral cosmetic foundation affords the user broad spectrum sun protection against the wrinkle damage that time and sun exposure can bring.
Rachel Goodyear, the Esthetician at DrSkinSpa.com, says, "This Ageless Derma Loose Mineral Foundation is just the right thing to liven up your skin! It is the last mineral cosmetic you brush onto your made-up skin to give yourself an air-brushed look that is so natural, yet glowing with youthful radiance."
Formulated by a dedicated group of physicians, chemists, researchers and estheticians with more than 30 years of expertise, Ageless Derma puts together cutting-edge research with all-natural ingredients to provide the best in anti-aging skin care and anti-wrinkle cream products.
Ageless Derma was inspired by nature. Its anti-wrinkle cream products contain many botanical ingredients, enhanced by the knowledge and innovation of its expert researchers. At the heart of this anti-aging range are high concentration stem cells, peptides and antioxidants that have been drawn from nature to provide flawless skin without resorting to invasive or painful delivery techniques.
The Ageless Derma line contains 3 core products:
Ageless Derma Stem Cell and Peptide Anti-wrinkle Cream
Ageless Derma Retinol and Vitamin K Eye Cream
Ageless Derma has also developed an all-natural line of anti-aging mineral makeup. Free from all oils and parabens, this soft makeup provides natural protection to skin, keeping it looking and feeling great, day or night.