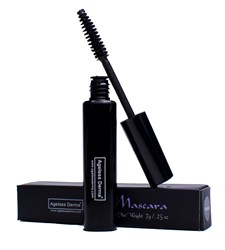 Rachel Goodyear, the Esthetician at DrSkinSpa.com, says, "Ageless Derma Mascara comes in a sexy Smoke or Chocolate shade. Mineral cosmetics make the face look younger and more vibrant, adding a healthy glow to the entire eye area."
Anaheim, California (PRWEB) September 16, 2013
DrSkinSpa.com is a top-selling retail web site. This successful company carries a high-end quality anti aging mineral cosmetics and anti aging wrinkle products line on their e-commerce web site. DrSkinSpa.com is proud to offer healthy, anti aging skin care solutions that are formulated through the purity of nature. The wrinkle products and mineral cosmetics sold through this web store have been clinically tested to be safe and effective for a majority of aging skin care needs. They carry a varied stock composed of the most-sought-after natural anti aging wrinkle products, cosmetics, and skin care solutions. The latest addition to the DrSkinSpa.com family of products is Ageless Derma Mascara.
Lashes are lengthened and made healthier with Ageless Derma Mascara. This is one of the premier mineral cosmetics formulated with pure minerals and natural botanicals and vitamins. This mixture of scientifically developed lash ingredients enables eyelashes to be healthier and to be dramatically lengthened.
The key ingredients that make up Ageless Derma mineral cosmetics (specifically the Ageless Derma Mascara) work to keep this mineral mascara from running. The botanicals keep lashes moistened with conditioners to keep them healthy and free of breakage. These same hydrating ingredients keep lashes sexy and in good health so they grow to even longer lengths instead of falling off or becoming brittle and breaking.
Mascara mineral cosmetics from Ageless Derma make eyelashes look naturally long and luscious. With the natural ingredients used to develop this mascara line, a natural look is a must. With this mineral cosmetics mascara, the user will never be mistaken for wearing false eyelashes or extensions, though the end result will be similar to those imitations.
Rachel Goodyear, the Esthetician at DrSkinSpa.com, says, "Ageless Derma Mascara comes in a sexy Smoke or Chocolate shade. Mineral cosmetics make the face look younger and more vibrant, adding a healthy glow to the entire eye area."
The Ageless Derma Mascara does not contain any laquer, so the lashes do not clump together or cake up as they would with other mascara brands.
Developed by a dedicated group of physicians, scientists, researchers and estheticians with over 30 years of experience, Ageless Derma puts together cutting-edge research with all-natural ingredients in order to provide the very best in anti-aging skin care and wrinkle products.
Ageless Derma was inspired by nature. Its wrinkle products contain many botanical ingredients, enhanced by the knowledge and innovation of its expert researchers. At the heart of this anti-aging range are high concentration stem cells, peptides and antioxidants that have been drawn from nature to provide flawless skin without resorting to invasive or painful delivery techniques.
The Ageless Derma line contains 3 core products:
Ageless Derma Stem Cell and Peptide Anti-Wrinkle Cream
Ageless Derma Retinol and Vitamin K Eye Cream
Ageless Derma has also developed an all-natural line of anti-aging mineral makeup. Free from all oils and parabens, this soft makeup provides natural protection to skin, keeping it looking and feeling great, day or night.