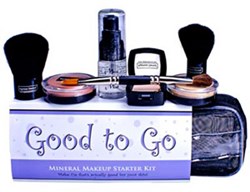 Dr. Farid Mostamand, owner of DrSkinSpa.com, says, "The Ageless Derma Good To Go Kit is a mineral cosmetic toolbox that imbues health and radiance to the skin.
Anaheim, California (PRWEB) September 11, 2013
DrSkinSpa.com is a top-selling e-retailing web site. This successful company sells top-notch anti aging mineral cosmetic, skin and hair brand name products on their e-commerce web site. DrSkinSpa.com is able to offer healthy, anti aging skin care solutions that are formulated through nature. The products sold through this web store have been clinically tested to be safe and effective for a majority of mature skin issues, from eye wrinkles to sagging skin. They carry a varied stock composed of the most-wanted natural anti aging creams, cosmetics, and skin care solutions. The latest addition to the DrSkinSpa.com family of products is the Ageless Derma Good To Go Kit.
The Ageless Derma Good To Go Kit can either be a user's first introduction to mineral cosmetic makeup or a convenient carryall for the necessary makeup that is needed when traveling. The mineral cosmetic kit is chock full of the makeup that not only looks great, but is actually good for the skin, making eye wrinkles and fine lines seem to disappear into the background as the complexion glows with a renewed radiance from the light reflecting the pure minerals used in this kit.
Because only a little bit of mineral cosmetic is needed for each makeup session, this kit will last and last, much longer than other cosmetics containing dyes instead of pure pigment from minerals. This healthy mineral cosmetic kit contains the ingredients you would want in any skin product to target eye wrinkles, fine lines, and protect the skin from sun exposure that leads to eye wrinkles and hyperpigmentation.
The Ageless Derma Good To Go Kit mineral cosmetic kit contains all you need to take care of skin and look great at the same time. It contains 2 foundations in 2 different shades. One of the mineral cosmetic foundations is a loose powder while the other is a pressed foundation in a small compact. Also included in the mineral cosmetic kit are two brushes: a Kabuki brush and a Camofluff brush to apply the foundation, to apply, camouflage and blend. There is also a mineral cosmetic Sun Bronzer to be applied over the makeup for a sunny, glowing appearance. Finally, the Mineral Mist is spritzed onto the face to set the makeup in place for the day.
Dr. Farid Mostamand, owner of DrSkinSpa.com, says, "The Ageless Derma Good To Go Kit is a mineral cosmetic toolbox that imbues health and radiance to the skin. This is makeup with a purpose, combining 100% pure minerals, vitamins A, E, D and green tea extract to reflect the dangerous sun's rays and provide nourishment for the skin."
Formulated by a committed group of physicians, chemists, researchers and estheticians with over 30 years of experience, Ageless Derma combines cutting-edge research with all-natural ingredients to give consumers the very best in anti-aging skin care.
Ageless Derma was inspired by nature. Its products contain many botanical ingredients, boosted by the knowledge and innovation of its expert researchers. At the core of this anti-aging range are high concentration stem cells, peptides and antioxidants that have been taken from nature to give users flawless skin without resorting to invasive or painful delivery techniques.
The Ageless Derma line contains 3 central products:
Ageless Derma Stem Cell and Peptide Anti-Wrinkle Cream
Ageless Derma Retinol and Vitamin K Eye Cream
Ageless Derma has also developed an all-natural line of anti-aging mineral makeup. Free from all oils and parabens, this soft makeup provides natural protection to skin, keeping it looking and feeling great, day or night.