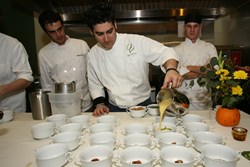 We are thrilled to help facilitate the growing trend of connecting farm to table.
Evanston, IL (PRWEB) September 01, 2013
Thursday, September 26th, from 6:00 to 8:30 pm, some of Evanston and Chicago's finest chefs will exhibit their culinary talents at the Annual Evanston Harvest Celebration to benefit Friends of Evanston Farmers Markets.
The event takes place at Now We're Cookin', 1601C Payne St. in Evanston, home of the North Shore's premier culinary center. A dozen chefs will be paired with farmers from the Evanston downtown market to produce a spectacular tasting menu. "This evening is a rare opportunity to interact directly with these great local entrepreneurs. The superior quality of the local products, enhanced by the talents of terrific local chefs, results in food – and an evening – to remember!" says Now We're Cookin' Owner/Chef Nell Funk.
Whether as Evanston residents or heading the best local eating establishments, this year's star-studded Chef roster is loaded with talent who actively support local Markets:
Nicole Pederson FOUND
Eric Mansavage FARMHOUSE EVANSTON
D'Andre Carter FEAST & IMBIBE (Evanston pop-up, formerly at Moto)
Bruce Sherman NORTH POND (James Beard Award Winner 2012)
Brian Huston THE PUBLICAN(2013 Michelin Bib Gourmands Restaurant)
Vince DiBattista CAMPAGNOLA/HUMMINGBIRD KITCHEN
Victor Hernandez THE STAINED GLASS
Jose Romero CHEF STATION
Sandy Chen, Chef/owner & Mark Tsang, Exec. Chef KOI
Michael Gottlieb BISTRO BORDEAUX
Andy Motto QUINCE
Ellen King HEWN BAKERY
To get a preview of the Harvest Celebration, come to the blue Friends tent, SW corner of the Saturday Evanston Market, 9-11am, for cooking demos and sampling:
Sept. 7, Brian Huston, The Publican
Sept. 14, Vince diBattista, Campagnola/Hummingbird Kitchen
Sept. 21, Ellen King, Hewn with Dr. Geeta Maker-Clark, Food as Medicine
Early Bird tickets for the event are $70 if purchased by Sept. 2; starting Sept. 3 tickets will be $80 per person. Tickets may be purchased in the Friends tent at the market (check or cash only) between 9 and 11am on Saturdays prior to the event, or on-line at Friend's web site, or by going directly to the ticket order site.
Proceeds from the event will go to support the activities of Friends of Evanston Markets, including educational activities related to nutrition, cooking demonstrations by area chefs, Market Bingo for kids, Dist. 65 educational craft projects, Cooking with Kids, the Heller Nature Center Bee Exhibit, the Friends web site and e-newsletters, and matching fund support for the LINK program, enabling low income families to participate in the Market.
About Friends of the Evanston Farmers Markets: http://www.evanstonfarmersmarkets.org
Friends of Evanston Farmers Markets (a 501c3 non-profit organization) educates the public about the benefits of eating fresh, locally grown foods, and advocates greater access to healthy food for all community members, regardless of means.
About Now We're Cookin': http://www.nwcookin.com
Now We're Cookin' is the premier culinary center for Chicago and the North Shore suburbs, promoting culinary education and entrepreneurship. Specializing in interactive cooking classes and corporate / private events, their professional demonstration studio provides a warm and fun environment for people to learn, promote and celebrate the culinary arts. In addition, Now We're Cookin' supports culinary entrepreneurship by operating a food business incubator in its state-of-the-art commercial kitchens. Great small food businesses thrive in the collaborative environment with assistance from the experienced staff. Over 40% of the non-farmers purveyors at the Evanston Farmers Market produce at Now We're Cookin'.