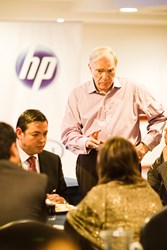 He who tells his story best wins.
NYC & LA (PRWEB) September 05, 2013
True Talk: Robert McKee's Story-in-Business Seminar launches in Los Angeles, New York, Beijing, and Malta this fall.
This fall, Robert McKee will teach storytelling to business people.
Mr. McKee is Hollywood's most sought-after storytelling guru. He was played by Brian Cox in Charlie Kaufman's double-Oscar-winning film 'Adaptation' opposite Meryl Streep and Nicholas Cage. He wrote the huge bestseller 'Story' and his 'Story Seminar' students have won over 60 Oscars. But what does this famously severe writing teacher have to offer a CEO? Quite a lot, perhaps.
"Beyond sales and bids, business leaders must master the purpose-told story for all strategic tasks, not the least of which is branding," says McKee. "If you don't control your story and tell it powerfully, others will tell it for you with less than flattering results. Fair or unfair, stories shape corporate futures."
McKee holds that highly successful companies have a story that everyone knows—from their customers to their call centres to their CEOs. "Story carries us beyond rhetoric into poetics, beyond intellectual influence to emotional involvement. Story changes how businesses work."
But every project, every product, and every action within a company can be informed by story to bring all involved onto the same page and make them act as desired. "The purpose-told story persuades…but much more. What do I gain if I change your mind and your reaction is to do nothing?"
The famously controversial Hollywood guru has some powerful ideas about what major companies are doing wrong in the Story department, how this can be fixed, and how story-- when used well, even by a business—creates meaning in our lives. Mr. McKee is making himself available for press interviews leading up to the fall seminars in Los Angeles (Sep. 26, 2013), New York (Oct. 4, 2013), Beijing (Oct. 26, 2013), and Malta (Nov. 29, 2013).
The one-day 'True Talk: Story-in-Business Seminar' will cover:
· The difference between fiction and the purpose-told story
· How story persuades both intellectually and emotionally
· How story guides marketing, branding and advertising
· How successful leaders use story to shape their critical decisions
· How an executive envisions his corporate future by thinking like an author
Robert McKee has tutored organizations as diverse as Microsoft, 20th Century Fox, Time Warner, Nike, and Hewlett-Packard in developing their narrative game plans. His 'Story-in-Business Seminar' empowers leaders and executives at all levels to enrich their persuasive talents and strengthen their business communication skills.
For more information on Robert McKee or to schedule an interview, please contact:
Mariah Thomas
Administrator, McKee Story
Mariah(at)Storylogue(dot)com
928-204-2323
Commendations
"Universally acclaimed." - NY Times
"Legendary." - Washington Post
"I must tell a story in 30 seconds to three minutes. McKee taught me how to create a unique and compelling story for the international brand." - Phil Chapman, Marketing Director, KRAFT Foods
"The art of persuasion—Robert McKee is the best." - Alexander Paufler, CEO & President, Mercedes-Benz Thailand
"McKee's exceptional teaching is critical to business success." - Phyllis Fogarty, Brand Manager, Pepsico