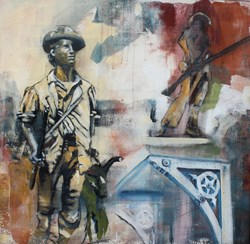 The work removes the exhausted patriotism of Americana
San Francisco, CA (PRWEB) September 12, 2013
Returning home to San Francisco, local artist, Zannah Noe completes a 16,000-mile road trip that explored a new version of Americana and rediscovers her country. She will be hosting two exhibits of her multimedia art project at Velcrow Studios, an art space in Dogpatch, that will host two events the "Paint + Photo + Souvenir" exhibit September 20-22nd and during Open Studios event November 1-3rd.
The American Bones series is a multimedia art project that explores America's cultural infrastructure. By distilling aspects of America's diverse identity, then combining them into a cohesive visual commentary, Noe's series uncovers the underlying bone structure of America. From architecture, landscapes, portraits, and public art, to the commoditization of memory that is the souvenir, the work explores the essential iconic forces that form regionalism in American identity.
Noe's art works to remove the exhausted patriotism of Americana. Her photos document culture as it has been shaped by its regional history, current trends, and the economics of "making it in America". The work uses original photographs as source material for paintings that often present "mashups" of cultural icons. Noe uses abstract expressionism to guide creation of her illustrative collages: deeply layered images of monuments, amusement parks, portraits, car culture, the souvenir, and other iconic themes that form our cultural-historic understanding of place-in-time.
The lodestar of the American Bones work is the rollercoaster; the piece has been laser cut into many forms to support and promote the project. The roller coaster is a shared American experience that transcends class, race, gender, politics, and religion. The artist has manufactured the coasters in red acrylic plastic from 15" to 48" long at Tech Shops (a membership based industrial shop) across the nation. The image is the Santa Cruz Boardwalk's Giant Dipper Rollercoaster and it appears as graffiti, stenciled into paintings, and silkscreened onto paper and products. You can support the project by visiting the artists websites, following her on social media or attending the two exhibits this fall.
About the Gallery
Velcrow Studios is an art space and salon in the Dogpatch neighborhood of San Francisco. The Victorian Steampunk-styled loft hosts curated shows, events, and visiting artists. During 2012-2014, Velcrow Studios will be host to the American Bones series. Visit Velcrow.com for more information and directions.