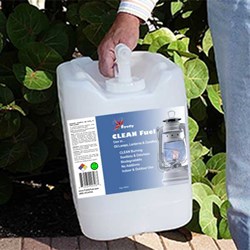 The release of our new CLEAN Lamp Oil is a direct replacement for Paraffin fuels that solidify at temperatures nearing 32 degrees F.
Sarasota, Florida (PRWEB) September 19, 2013
Firefly Fuel, Inc. of Sarasota, FL introduces CLEAN Fuel, a breakthrough lamp oil that measurably outperforms the competition in both price and performance. "There is a new gold-standard for fuel," said Phil Tyson. He added "This is one fuel that can do it all and not hurt your wallet."
Firefly CLEAN Fuel embodies many of the known characteristics of a high-quality paraffin lamp oil. It's odorless, sootless, and smokeless but that's where the similarities end.
Firefly CLEAN Fuel is an enhanced synthetic fuel, not a petroleum-based product. It is superior to paraffin lamp oil in the following ways:
1) Up to 100% longer burn time
2) 142º F Low Flash Point
3) Good Biodegradablity
4) Lower Freeze Point
5) Contains no BTEX which is harmful to the central nervous system
6) Sustainable
7) Recommended for All Wick-Powered Devices
Firefly CLEAN Lamp Oil is safe and performs well in all wick-powered devices, unlike paraffin lamp oil which is not recommended for oil lamps due to its high flash point, which can clog the wick over time. Firefly CLEAN fuel is well-suited for refillable oil candles, oil lamps and lanterns, tiki torches and fire poi/arts. Firefly CLEAN fuel is also safe for indoor and outdoor use.
Phil Tyson states, "Our CLEAN lamp oil has been burn tested numerous times competing against popular paraffin fuels. The astounding result from these tests was a 100% increase in burn times." He further stated that, "The savings in fuel and in refill costs provides tremendous savings in time and money. In addition, there was absolutely NO odor while burning and smelling directly from the container."
Firefly Fuel also offers CLEAN fuel blended with Citronella or Eucalyptus essential oils that reduce annoying flying insect attacks.
Firefly CLEAN Lamp Oil is a proprietary product that is available in a variety of containers, small and bulk - 32 oz., 128 oz., 5 gallon and 55 gallon drums, consistently priced and available for shipment worldwide.
About Firefly Fuel, Inc. (http://www.FireflyFuel.com): Firefly Fuel offers worldwide distribution of proprietary fuels, eco-friendly refillable oil candles, lamps and lanterns, private labeling options, small and large quantities, consistent product availability, and same-day drop shipping for most orders.
Contact:
Philip Tyson, CEO
8151 Blaikie Court
Sarasota, FL 34240
gptyson(at)thecoconutgroup(dot)com
FireflyFuel.com
888-472-6740