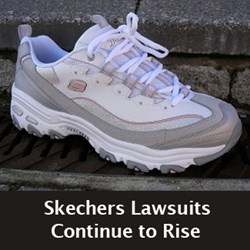 Contact Wright & Schulte LLC for a FREE Skechers Lawsuit consultation by calling 800-399-0795 or visit www.yourlegalhelp.com
Columbus, OH (PRWEB) September 18, 2013
Wright & Schulte's attorneys continue to file Skechers lawsuits on behalf consumers. This Skechers lawsuit involving an Idaho woman is part of MDL 2308 and was filed in the U.S. District Court of the Western District of Kentucky, Louisville Division. This Skechers injury lawsuit alleges that the plaintiff fell and suffered a serious foot fracture due to the allegedly flawed rocker bottom design of Skechers Shape-Ups. This lawsuit also contends that Skechers' ads misled consumers into believing that wearing Shape-Ups could provide them with numerous health benefits when, in fact, such claims had never been validated by reliable studies.
Wright & Schulte, LLC specializes in defending the rights of those who have suffered severe injuries after using unsafe consumer products. Our experienced Skechers attorneys have a proven track record of successfully going up against large corporations. We welcome individuals who think that they have been injured due to these toning shoes to speak to our Skechers lawyers by visiting yourlegalhelp.com or by calling 1-800-399-0795.
Unstable Rocker Bottom of Shape-Ups Design Causes Foot Fracture, Alleges Skechers Lawsuit
The Skechers complaint explains that the plaintiff bought her Skechers Shape-Ups in 2010 after seeing various ads that claimed that wearing these shoes could result in a number of health benefits. Specifically, while Skechers ads claimed that wearing these shoes could improve muscle tone in the legs, buttocks and abdominal muscles, these ads also alleged that regularly wearing Shape-Ups could help consumers improve their circulation and posture.
Within a year of regularly wearing her Skechers Shape-Ups, in May 2011, the plaintiff was walking when the unstable rocker bottom of one of her shoes turned inwards, causing her to fall in excruciating pain. The plaintiff did not seek medical care after this initial fall. However, after falling again when wearing Shape-Ups a month later, the plaintiff sought medical care due to her persisting foot pain.
After getting x-rays, the plaintiff was told that she had suffered a serious fracture in her left foot and that she would need to have surgery to treat her foot fracture. Following surgery, the plaintiff had to wear a boot, which prevented her from being able to work. Despite undergoing surgery, wearing a boot and subsequently attending physical therapy, however, the plaintiff still reportedly has limited use of and recurring pain in her left foot.
Skechers Lawsuits Target Non-Validated Ads
Skechers has come under fire for allegedly misleading consumers into thinking that Shape-Ups were safe, effective and healthy to wear. In fact, this Skechers lawsuit and many others – including a recently settled class-action Skechers lawsuit – have alleged that Skechers' claims about Shape-Ups' health benefits have not been validated by reliable scientific research. This allegation has been supported by an independent study conducted by the American Council on Exercise (ACE) at the University of Wisconsin, which found that, "there is simply no evidence to support the claims that these shoes will help wearers exercise more intensely, burn more calories or improve muscle strength and tone." [acefitness.org/getfit/studies/toningshoes072010.pdf June 2010]
About Wright & Schulte LLC
Wright & Schulte LLC, an experienced personal injury firm, is dedicated to the belief that America's legal system should work for the people. Every day, the attorneys of Wright & Schulte LLC stand up for the rights of people who have been injured or wronged by defective drugs and their side effects, complications from defective medical devices, and unsafe consumer products. We will fight tirelessly to ensure that even the world's most powerful corporations take responsibility for their actions. If you're looking for a law firm that will guarantee the aggressive and personal representation you deserve, please do not hesitate to contact Wright & Schulte LLC today. Free case evaluations are available through yourlegalhelp.com or by calling 1-800-399-0795.
Contact:
Wright & Schulte LLC
812 East National Road
Vandalia, Ohio 45377
1-800-399-0795
http://www.yourlegalhelp.com