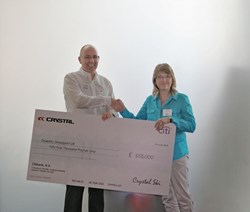 (PRWEB UK) 26 September 2013
Over the past few years nearly 100 Crystal Ski managers have supported DSUK by giving a week of their time to travel to resorts and help disabled skiers and boarders experience a winter sports holiday. Crystal Ski have now made this an annual event for all of their colleagues so they can get involved with DSUK and it has become so popular that there is now a waiting list.
In addition to helping out in resort, hundreds of UK employees take part in annual ski-athons, Santa runs, friendly football games and sky diving are some of the events that are held to aid fundraising for DSUK. Colleagues who are based overseas in over 130 resorts raise money through a selection of activities which include quizzes, fun runs and ski-offs. This fundraising and support has enabled DSUK to continue their work promoting equality and opportunity for disables skiers across the UK.
Their experiences, together with the expertise of DSUK, have led Crystal Ski to launch Crystal Adaptive ski holidays for those who wish to travel independently with their family or/and friends.
This programme offers a several resorts and accommodation across Europe and the USA utilising adaptive ski schools which provide specialist tuition and equipment for both beginners and advanced skiers.
Crystal Ski's vision is to make travel experiences special whilst minimising environmental impact, respecting people and cultures, and bringing economic benefits to communities. TUI Travel of which Crystal Ski is a part of, send customers on holiday all around the world and their businesses are involved in hundreds of projects that bring positive benefits to local communities and the environment.
To find out more about ski holidays from Crystal Ski call them on 0871 236 9501 or visit their website http://www.crystalski.co.uk/.