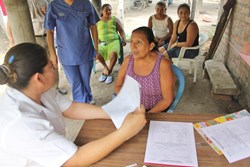 "We have the tools to prevent and treat cervical cancer. It is unacceptable that women anywhere die of it. " - Dr. Miriam Cremer, Founder, Basic Health International
New York, NY (PRWEB) September 13, 2013
In the fall of 2012, the Ministry of Health of El Salvador, with technical support from the non-profit organization Basic Health International, launched a program called CAPE - Cervical Cancer Prevention in El Salvador. CAPE is a three-phased project that will provide primary HPV screening to 30,000 women, including those living in the most rural areas of the country. The project is expected to help develop the blueprint for cervical cancer prevention programs in underserved populations worldwide.
El Salvador is the first country in Latin America and the Caribbean to receive a donation of the revolutionary test, called careHPV. HPV-testing screens for the precursors that cause 100% of cervical cancer cases.
Dr. Miriam Cremer, the President and Founder of Basic Health International, stated, "The future of cervical cancer screening is HPV testing. HPV testing is more precise than pap smears. This means that results are more accurate and screening can happen less frequently, which is especially important for underserved populations. Here in El Salvador, women face major obstacles to receiving screening. Often they have children and family to care for, live prohibitive distances from clinics, and lack transportation."
In just 6 months, Phase 1 provided screening to 2,000 rural Salvadoran women. Cervical cancer experts from Basic Health International, the Harvard School of Public Health and The National Cancer Institute, among others, gathered in El Salvador to review the outcomes of phase 1 and to determine how to scale-up for the remainder of the project.
Phase 2 will launch in October 2013 and will provide screening to approximately 8,000 women over the next 10 months. By 2016, this program is expected to screen 1/5 of all age-eligible women in the region of El Salvador that the CAPE project serves. Outcomes from this project will be used to strengthen cervical cancer programs in low-resource settings worldwide.
In El Salvador, cervical cancer is the primary cause of cancer death among women. According to the World Health Organization, approximately 250,000 women worldwide die from cervical cancer each year, with nearly 90% of cases occurring in low and middle-income countries.
Cremer added with conviction, "We have the tools to prevent and treat cervical cancer. It is unacceptable that women anywhere die of it."