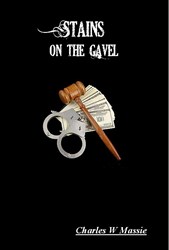 Stains on the Gavel is a heart-pumping thriller; A Wonderful and descriptively tale written by Charles W. Massie
-Maria Beltran, Reader's Favorite reviews-
Syracuse, New York (PRWEB) September 04, 2013
The nightmare began in July of 2009.
This true story is about southern Kentucky, where the rules are sometimes made up on the fly. Even though it is set in the middle of the bible-belt, some people put their own goals ahead of justice.
Reader's Favorite reviewer Lit Amri writes: "This novel exposes the ugly truth of how easily it is for certain people to manipulate the system that they are sworn to uphold. "Stains on the Gavel" truly captivated me. The author's straightforward writing style works well and kept me glued to the pages. I salute Mark Casey's bravery for fighting the system. At its core, this novel examines a challenging ethical debate and true crime novel fans won't be disappointed."
ISBN: 9781432799144
Format: 6 x 9 paperback white
Release Date: August 8, 2013
Page Count: 315
SRP: $19.95
FOR MEDIA INTERVIEWS AND REVIEW COPIES, PLEASE CONTACT THE AUTHOR DIRECTLY
About the Author
Charles Massie grew up in upstate New York, the oldest of 4 children. After finishing high school, he enlisted in the United States Navy and served a total of six years at various ports around the world. Upon his return to civilian life, he continued his education at Syracuse University and eventually worked for a number of engineering and sales firms. The call of creative expression was always in the background of his life and over the years, he has submitted articles and stories to Twilight Zone Magazine, Readers Digest, Analog Publications and others.
He currently lives in the Commonwealth of Kentucky but travels frequently to New York State and is the owner of StarShow Publications. For more information, please visit http://www.starshowpublications.com
Media Contact:
Charles W Massie
starshowpubs(at)gmail(dot)com
Starshow Publications
P.O. Box 375, Horse Cave, KY 42749
315-559-9498
http://www.starshowpublications.com
###