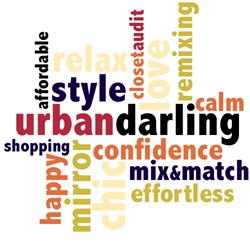 Our goal is to be the go-to house-hold name when people think of style needs. This is the team to get us there.
Santa Clara, CA (PRWEB) September 04, 2013
Urban Darling, the choice for personal styling, announced its Management Team today. The company offers exclusive licensing opportunities to new and experienced wardrobe stylists across the country.
"With a lot of changes happening right now in the industry, Urban Darling's best option was to look within the company, bringing talent to manage, train and lead," Corinne Phipps, Urban Darling Founder comments. "It was really obvious what our next steps would be and the team that would led us there formed."
Fanny Woo, wardrobe stylist located in Napa Valley, CA, is a veteran (and former) corporate retail professional. Fanny heads up Operations and Recruiting of new stylists to the company.
Danielle Euzent, who resides and styles Manhattan, is an Urban Darling client turned stylists, brings first-hand experience to her assisting Fanny with Recruiting.
San Antonio, Texas wardrobe stylist Carlissa Montoya acts as the Training and Development Director whose expertise includes managing several specialty boutiques as well as distinguished luxury department stores and luxury lifestyle boutiques such as Lilly Pulitzer and Michael Kors.
Natalie Davis-Castro, recently relocated to Austin, Texas, serves as 1 of 2 Educational Directors. She brings an innovative slant to the team being raised in London.
Los Angeles wardrobe stylist, Luisa Lucia brings personal endorsements from Fitness Magazine and School of Style is Urban Darling's other Educational Director.
Finally, another New York City stylist, Lauren Sterling, rounds the group with experience in Media and Finance as the Client Director.
"We are a motley crew of stylists, from several walks of life. We are all committed to bringing out the best for Urban Darling," says Phipps. "Our goal is to be the go-to house-hold name when people think of their style needs. This is the team to get us there."
Founded in 2006 by Phipps, Urban Darling has experienced widespread growth and established itself as the go-to expert fashion source for media outlets including CNN.com, REAL SIMPLE, SheKnows.com, The View from the Bay, E! Online, MyStyle.com, NBC Bay Area, iVillage, and MSNBC.