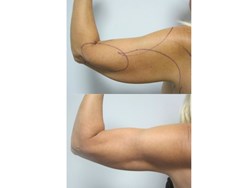 Tampa, FL (PRWEB) September 26, 2013
Leading liposuction expert in Tampa, Dr. Su of Artistic Liposculpting Center has perfected his Art Lipo Arm Technique to help patients achieve the coveted sculpted arms of celebrities like Angelina Jolie and Jennifer Aniston in one quick, affordable procedure.
On April 29th, the American Society of Plastic Surgery (ASPS) released the annual report for the state of plastic surgery for 2012. The biggest surprise was an increase of more than 4,000% in upper arm lift surgeries since 2000. This increase in surgery includes mostly brachioplasty, which tucks away loose skin in the upper arm, and liposuction to the arm. Fueling this trend has been the popularity of Michelle Obama's sculpted looking arms, as well as other female celebrities such as Jennifer Aniston, Kelly Rippa and Angelina Jolie. There have been several reports over the past week in Extra, Vanity Fair, New York Post, Los Angeles Times, US News and even on The Today Show about this new trend.
Dr. Su at Artistic Liposculpting has noticed this trend grow in his own practice over the past few years and has seen a drastic increase in patient requests for celebrity arms, such as Angelina Jolie's. Using his unique background as an artist, Dr. Su has perfected his liposuction technique for arms known as Art Lipo Arms. Dr. Su's new technique gives patients with sagging, flabby arms a result that leaves them looking muscular and toned. The technique is a major departure from traditional liposuction of the arms which only treated the lower half of the upper arm. The old liposuction method only gave the arms a slimmer look, but Dr. Su's technique treats the entire arm and gives the high definition toned look that patients are really after. The procedure is much less costly than doing a brachioplasty (arm tuck), and also avoids creating a dreaded scar from elbow to under arm. His technique works well on women who have good muscle tone, but because of a moderate layer of fat will never be able to appreciate their toned muscles. Even moderate sagging can respond well without requiring a skin tuck. Dr. Su's results are seen immediately when the surgery is completed and look their best within a month. It takes 3-4 hours and costs approximately $4,000, which is much cheaper than a brachioplasty that costs $8,000-$12,000.
About Artistic Liposculpting Center:
The Artistic Liposculpting Center offers the safest and most advanced techniques of liposuction that are available today. The Artistic Liposculpting Center's featured procedure is tumescent liposuction that eliminates the risks of general anesthesia and also minimizes downtime. The Artistic Liposculpting Center's mission is to provide patients with the information that they need about treatments and procedures as well as to offer them the latest technologies to give patients more sculpted bodies, younger looking facial contours and an all-around amazing look. For more information or to schedule a consultation today please visit http://www.artlipo.com or call 1800-207-9009