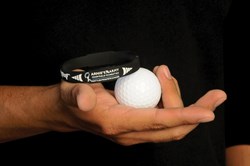 (PRWEB) September 02, 2013
Sabona has created a special Pro-Magnetic bracelet featuring the Arnie's Army Battles logo and a portion of the proceeds are sent directly to the Prostate Cancer Foundation. The Sabona Pro-Magnetic Sport Wristbands feature a combination of four 1200 gauss magnets, located under each Sabona logo, each positioned bio north facing the skin.
The mission of the Prostate Cancer Foundation is to accelerate the world's most promising prostate cancer research for better treatments and cures. Since 1993, unique strategies for identifying and investing in the most promising research programs have generated life-saving results. PCF channels resources to the world's top scientific minds by cutting red tape and encouraging collaboration to drive innovations.
The Arnie's Army Battles Prostate Cancer program has continuously supported the Prostate Cancer Foundation. The program has generated nearly $5 million in research funding. A portion of the sales of this special Sabona Pro Magnetic Wristband will be donated to the Prostate Cancer Foundation.
KNOW YOUR SCORE – There are several risk factors for prostate cancer, including family history, age and ethnicity. Know your risks for prostate cancer and talk to your doctor about early detection and screening. Visit http://www.arniesarmybattles.com/ for more information.
"Like" Sabona of London on Facebook for special offers and the latest promotions (continental US only).
About Sabona of London Unlimited, Inc.:
Sabona of London, Inc., established in 1959, has a long history as the premier manufacturer and marketer of copper and magnetic jewelry worldwide. The expanded Sabona product line includes Copper Magnetic Bracelets and Stainless Steel Magnetic Bracelets as well as Pro Magnetic Sport silicone wristbands and Sabona Athletic Bracelets, a line of fabric magnetic bracelets. In addition to magnetic bracelets, Sabona offers Copper Thread Supports; a line of supports for the knee, ankle, elbow, etc. that feature 5% copper thread in the fabric.
Visit http://www.sabona.com for further information.