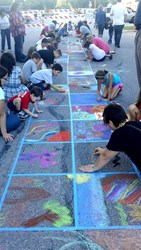 Downtown Round Rock, TX (PRWEB) September 10, 2013
The Round Rock Chalk Walk Arts Festival is Round Rock's area largest and most prestigious festival for arts and cultural events drawing over 15,000 people annually to historic downtown Round Rock during the first weekend in October. Chalk Walk and Arts Festival has thousands in attendance with numerous vendors, sponsors, and artists, including chalk artists, musicians vocal groups, theatrical performances, and children's performances.
The Round Rock Chalk Walk is a free festival. The goal is to provide a celebration of the arts and be crowned by its peers as one of the best festivals in the area. Chalk is the theme. Chalk Walk is the Round Rock Art's version of an Italian Street painting festival. Artists are free to create, with chalk pastels, a picture on the concrete. Drawings are created in full view of the public, who are encouraged to interact with the artists as they use their amazing talents to create beautiful "murals" before their audience's eyes. The fact that the paintings disappear at the end of the fest makes their beauty even more appealing.
Each year artists, school art programs and teachers, individuals and businesses donate a work of art to be auctioned off for art program funding. Each item is judged and has a chance to win cash awards. Sponsors and non-profit organizations will offer a variety of interactive arts activities designed to engage and extend the experience for our guests. Live music and strolling street thespians provide non-stop entertainment experience for visitors. Also art vendors, food, free activities for kids, street performers, trick dogs, jugglers, community art experiences, interactive drumming, community partners, art auction, business vendors all add to the festival atmosphere. There is something for the entire family.
Chalk Walk will showcase our community and state through programs and activities that reflect the vibrancy of the arts in action is where we excel.
The Chalk Walk Fest is presented in part by Round Rock Arts Council and the City of Round Rock. It is governed by a community pool and the Round Rock Arts Board of Directors. Chalk Walk Fest is dedicated to producing a free arts and cultural event. Festival proceeds benefit the emerging arts groups of the Round Rock area.
Call Kris Whitfield at 512-689-2450 or go online at http://roundrockarts.org/chalk-walk/ or http://www.roundrockarts.org
Thanks!