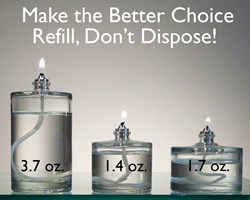 "Firefly Fuel is a one-stop shop for the hospitality industry, restaurants and all lovers of refillable oil candles, lanterns, lamps and the premium lamp oil necessary for best performance." - Philip Tyson, President, www.FireflyFuel.com
Sarasota, Florida (PRWEB) September 12, 2013
Firefly Fuel is excited to announce the release of their new website offering a wide variety of Eco-friendly refillable oil lamps, oil candles and simple, refillable fuel cells designed for the hospitality industry. These products are a direct replacement for the disposable fuel cells many restaurants use in their candle holders which add significantly to our burden of trash ending up in local landfills.
Go Green by Example
"This is an overlooked and now very obvious way to save money and go green for the hospitality industry. When you start seeing national hospitality groups embracing refillable fuel cells instead of disposables like, The Charlie Palmer Group, it's quite exciting to be part of the movement. " said Phil Tyson, CEO of Firefly Fuel.
-----------------------------------------
View Videos!
-----------------------------------------
Going "green" now saves hard cash by using refillable oil candles and fuel cells that use longer-lasting and non-toxic lamp oil. Phil Tyson suggests using their Online Restaurant Savings Calculator to determine actual savings. He also noted that typically a restaurant will dispose of the fuel cell when it runs low while there is still useable fuel, further adding to the problem.
Firefly Fuel's initial passion was to demystify and bring high-quality, well-tested fuels to the marketplace which they have successfully done with their signature proprietary fuels for oil lamps, lanterns, candles and tiki torches. They determined a sturdy and durable refillable fuel cell was sorely needed for the hospitality industry; thus, the spark for the Firefly line of refillable fuel cells, oil lamps and candles supporting hospitality sustainability.
The fuel cells are easy to refill from a simple refill bottle which makes the daily effort of setup by wait staff a snap. No longer will fuel be wasted. Every drop will be used. The refillable fuel cells are properly sized to work with most common candle holders. In addition, Firefly Fuel has an entire selection of refillable oil lamps in one- or two-piece, hand-blown designs using borosilicate glass for strength and durability.
Firefly Fuel serves the bulk needs of resellers, distributors, purveyors and hospitality groups for refillable oil candles and fuel both domestically and internationally. They also offer private labeling on orders of 1,000 gallons or more. Product is available from quart sizes to 300-gallon totes.
About Firefly Fuel, Inc.(FireflyFuel.com): Firefly Fuel offers worldwide distribution of proprietary fuels, Eco-friendly refillable oil candles, lamps and lanterns, private labeling options, small and large quantities, consistent product availability, and same-day drop shipping for most orders.
Contact:
Philip Tyson, CEO
8151 Blaikie Court
Sarasota, FL 34240
gptyson(at)thecoconutgroup(dot)com
FireflyFuel.com
888-472-6740