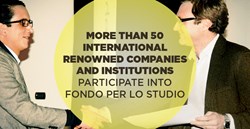 We firmly believe in the importance of Italian design and would like to support young creatives in their quest to achieve successful careers in the field of design and fashion design
Milan, Italy (PRWEB) September 04, 2013
Domus Academy and NABA have launched Study Fund 2013, an initiative to provide 1 million euros in scholarships for deserving students who need financial support to pursue academic programs at these universities. This initiative was conceived in collaboration with 50 of the most important and prestigious companies in design, fashion, technology and retail. Students will be able not only to create their own academic and career path, but also to connect with these companies through joint projects during their careers.
"We firmly believe in the importance of Italian design and would like to support young creatives in their quest to achieve successful careers in the field of design and fashion design," said Marc Ledermann, CEO of Laureate Italian Art and Design Education.
The Study Fund seeks to promote careers in the creative industries as a key driver for sustainable growth, employment and economic development. It will also encourage student mobility, enabling graduates to fully contribute and integrate into the global community of designers.
The companies participating in Study Fund are 10 Corso Como, 7 For All Mankind, Abarth, Adobe, Alessi, Alfa Romeo, Astoria e Wega Macchine per Caffè, Bayer MaterialScience, Bertone, Bonaveri, Camera Italiana Buyer Moda, Cisco Systems, Club Med, Coccinelle, De Beers Group of Companies, De Padova, Deborah Milano, Dodo, Electrolux, Fiat, Fondazione Ferré, Forevermark, Frankie Morello, Future Concept Lab, Galleria Carla Sozzani, Gruppo Cosentino, Gufram, Interni (Arnoldo Mondadori Editore), JCS Human Resources, Kobalt Entertainment, La Triennale di Milano, Lago, Lancia, Lineapiù Italia, Luceplan, Lumen Center Italia, Lungarno Collection, Marie Claire, Park Hyatt Milano, Repower, Slowear, Smartbox, Stone Island, The Coca-Cola Company, Tic Tac, Triumph, Veneta Cucine, Vhernier, Vogue Talents and Zanotta.
The Study Fund is available to both Italian and international students who would like to pursue programs as early as the upcoming academic sessions in September (NABA) and October (Domus Academy). For more information, please visit http://www.naba.it and http://www.domusacademy.com.
Domus Academy
Domus Academy was founded in Milan in 1982 as the first postgraduate design school in Italy and as an open project focusing on the Italian Design and Fashion experience. Over the years, Domus Academy has asserted its importance as a school in the full meaning of the term: a place of postgraduate education and research lab investigating innovation and design topics. The Academy won the Compasso d'oro for the quality of its approach and research in 1994 and joined Laureate International Universities, a global network of high-level education for art and design, in December 2009. The Academy offers the following master's programs attended by students from all over the world: Accessories Design, Business Design, Car & Transportation Design, Product Design, Fashion Design, Interaction Design, Interior & Living Design, Urban Vision & Architectural Design, Fashion Management, Fashion Styling & Visual Merchandising, Visual Brand Design, and Design & Marketing of Luxury Goods.
NABA, Nuova Accademia di Belle Arti Milan
NABA is an academy for the advancement of art and design. It is the largest and most innovative private Academy in Italy and the first to be officially recognised by the Italian Ministry of Education, University and Research (MIUR) in 1980. NABA offers first and second level courses in the fields of design, fashion design, graphic arts, multimedia arts, visual arts, and scenography, for which it confers university degree-equivalent academic diplomas. Founded in Milan in 1980 on the private initiative of Ausonio Zappa, Guido Ballo and Gianni Colombo, NABA has always aimed at challenging rigid academic traditions and introducing visions and languages closer to contemporary artistic practices and to the system of art and the creative professions. Since 2009, NABA has been a member of Laureate International Universities, an international network of more than 70 accredited institutions offering first and second level degree courses to more than 780,000 students in 29 countries throughout the world.