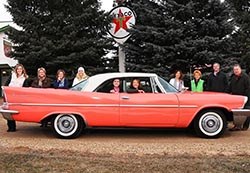 Superior endodontic care.
Bismarck, North Dakota (PRWEB) September 06, 2013
In Bismarck, an endodontics team has shown that you can find gratification in the most unlikely of places--root canals. These professionals come from a variety of backgrounds but are united in their love for their careers at Custom Endodontics, led by Dr. Steve Osmond and Dr. Nathan Wayment.
BryAnna, an Office Coordinator who was raised in Hebon, North Dakota, is the veteran of the team. She earned a degree in Applied Science as a Medical Secretary and has worked in the dental industry for the past 18 years. BryAnna is a jack-of-all-trades, taking care of everything from patient records to assisting the doctor with patient treatments, but what she enjoys most about her career is marketing. She does this by reaching out to people, answering their questions, and resolving concerns they have.
Tina, the Schedule Coordinator, was born and raised in Bismarck and earned a Bachelor's degree in Radiologic Technology through the University of Mary. She first joined the team 16 years ago as an assistant before receiving the training she needed to become a Schedule Coordinator. Coordinating the busy schedules of two doctors, a team of support staff, and customers is a demanding job. Tina finds fulfillment in it, however, by knowing that she's able to help patients get rid of their pain and help in their treatment needs.
Other members of the team include Hayley, Jess, Steph, Emily, Kelsey, Cammie, Helen, Britta and Karlie. Hayley grew up in Beulah, North Dakota, and graduated in 2005. She went to Cosmetology school and has her own Salon in Bismarck when she isn't coordinating schedules for Custom Endodontics. Jess grew up in Bismarck and graduated from Bismarck State College before joining the team in 2007. Steph was born and raised in North Dakota and completed her degree in Dental Hygiene at the University of Minnesota. Emily, who was raised in Mandan, North Dakota, graduated from Minot State University with a Bachelor's of Science in Business Management before becoming a Dental Assistant. Kelsey, a new member of the team, grew up on a farm near Kathryn, North Dakota. She studied Dental Assisting from Minnesota State Community and Technical College. Cammie was raised in Mandan, North Dakota, and attended Capital Commercial College in Bismarck, graduating with a degree in Medical Secretary. She worked in the medical field before joining Custom Endodontics in 2007. Helen graduated from the North Dakota State College of Science Associate of Dental Hygiene program in 1990 and worked as a hygienist before joining the team February 2013. Britta was born in Minot and raised in Burlington. She attended Cosmetology in Minot and joined the team in June 2013. Karlie joined the practice in August and is working toward her degree for Dental Assisting. She received her CMA certificate in 2011 and also works as a certified medical assistant.
Their paths have all been different, but each person has found enjoyment in endodontic care. They're also united in their passion for outdoor activities and their pets. Hunting, gardening, horseback riding, and camping are common hobbies among the team members, and most have at least one beloved pet.
Custom Endodontics is led by Dr. Nathan Wayment and Dr. Steve Osmond. They pride themselves in providing superior endodontic care in a relaxed, comfortable environment and perform root canals and other specialized treatments at their locations in Minot & Bismarck. To schedule an appointment, please visit customendo.com.
To schedule an interview with Dr. Wayment, Dr. Osmond, or the Custom Endo team, please contact their publicist, Kathy Osmond, at kathy(dot)osmond(at)sourcedmediabooks(dot)com or 801.899.5490.