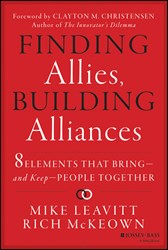 San Francisco, CA (PRWEB) September 03, 2013
"I've seen first-hand how collaboration is crucial to success—not only within an organization, but between multiple organizations. In Finding Allies, Building Alliances, Leavitt and McKeown provide a clear, simple roadmap for how to approach collaboration and the necessary elements for groups and people working together to succeed."—Eric Schmidt, chairman, Google
Your business challenges extend far beyond you and your firm, to the competitors within your industry and the regulators outside it. In our in increasingly interconnected world, it's the best networked groups that triumph. However, some problems are too complex for an individual agency to handle alone and few know how to collaborate in a high performance way.
Leaders in every sector of the economy intuitively see the value of bringing together competitors, scientists, activists, government representatives and others to forge solutions to problems they can't solve on their own. Whether it's an auto company executive seeking to increase the percentage of alternative fuel vehicles manufactured or an educational leader trying organize a charter school in an inner-city neighborhood, collaborations are essential, and a viable collaborative process is critical.
As the former Governor of Utah and U.S. Secretary of Health and Human Services, Mike Leavitt has first-hand experience with building these kinds of high-level collaborations. In his new book, Finding Allies, Building Alliances: 8 Elements that Bring – and Keep – People Together (Jossey-Bass; 978-1-118-24792-1; September 2013; $29.95; e-book available) Leavitt and co-author Rich McKeown help find workable solutions to the most complex problems by introducing 8 elements that will help any leader foster and maintain an effective production collaboration venture.
These 8 elements include:
1. Common Pain – a shared common problem or opportunity.
2. A Convener of Stature – a respected and influential presence.
3. Representatives of Substance – collaborators with the right mix of experience and expertise.
4. Committed Leaders – to keep a collaboration moving over the rough patches.
5. A Sense of Movement – towards an important destination.
6. A Formal Charter – established rules that help resolve differences and avoid stalemates.
7. A Clearly Defined Purpose – a driving idea that keeps people on task
8. A Common Information Base – to avoid divisive secrets and opaqueness.
Finding Allies, Building Alliances shows how better collaboration can not only solve problems, but boost competitiveness. It is essential reading for any business or community leader looking for transformative solutions and a sustainable future.
About the Authors:
Mike Leavitt (Salt Lake City, Utah) is the founder and chairman of Leavitt Partners, where he has advised clients since 2009 in the practice areas of health, environment and trade. Previously, he served as the Secretary of Health and Human Services in the cabinet of President George W. Bush (2005-2009). He has also led the Environmental Protection Agency (2003-2005) and served three terms as governor of Utah (1993-2003). His managerial accomplishments include leading the implementation of the Medicare Part D prescription drug program, which serves 43 million seniors; collaborating with other governors to found Western Governor's University, a non-profit online university system improving access to post-secondary education in Western states; and spearheading an innovative design-build system to revamp the Utah highway network ahead of schedule and under budget. He is an in-demand speaker who presents to dozens of groups each year and appears regularly in mainstream print and television news media.
Rich McKeown (Salt Lake City, Utah) is the president, CEO, and co-founder of Leavitt Partners, where he leads teams that help clients enter new markets, enhance product value, and navigate regulatory systems. During his tenure as chief of staff at the department of health and human services, he managed the day-to-day activities of a department of 67,000 employees with a budget in excess of $740 billion and led landmark food safety negotiations between the FDA and the Chinese government. Previous government appointments include tenure as chief of staff at the EPA and in the Utah governor's office (both under Mike Leavitt) and commissioner of the Utah State Tax Commission.