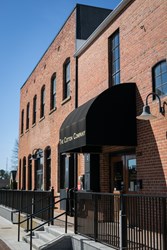 Wake Forest, NC (PRWEB) September 03, 2013
An influx of new small businesses are coming to Wake Forest just in time for holiday shopping.
The Cotton Company has always been a shopping destination in Wake Forest for those who want a variety of products under one roof. Locals bring guests from far and wide just to experience the small town shopping environment of a restored cotton warehouse. For those who choose to shop from small businesses and buy locally made and handcrafted goods, The Cotton Company is a homerun! The small business market is always changing with new talent coming in and a growing population and now is the time for new business startups to get their feet wet and The Cotton Company is the best way to start up in Wake Forest.
Right now, there are 5 new artists who have moved into The Gallery and 2 more still coming this month. A new collection of antique jewelry is on display in Gavy's Jewelry. Art from the Empty Nest is a collection of watercolor paintings, pastels, oil and photography. Sue McGlothlin has a wonderful Exhibit of framed Fine Art Photography. Lee's Decorative Photography and Bekah Hasslet's Oil Paintings are new to our Art Gallery end caps. Coming soon you'll see Cross my Heart Creations using refurbished and re-purposed wood and a new line of spa and beauty products by Majestique.
Stuart Nye a jewelry artisan from Asheville, NC is brand new in The Marketplace along with a new collection of refurbished furniture at Reborn. Dilly Dally Doodles has a great inclusive collection of personalized gifts and children's clothes. Unexpected Treasures brings rustic wedding décor and specific baby shower décor and gift ideas. Also coming this month, Tiny Tiptoes Boutique will expand our children's clothing lines and the Earth Village Market will be adding some dimension to our Fair Trade product selections.
The Cotton Company is a boutique marketplace in the Historic District of Downtown area of Wake Forest. Open every day, shop over 60 businesses and artisan booths under one roof. Enjoy shopping again in an intimate and historic setting while finding a selection that is unmatched.