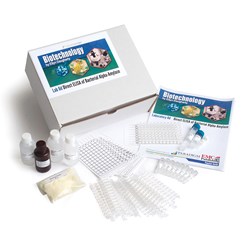 Biotechnology by Ellyn Daugherty teaches the concepts and lab procedures required for careers in the rapidly growing biotechnology industry.
Huntington, W.V. (PRWEB) September 09, 2013
Crosscutting Concepts has partnered with EMC Publishing and author Ellyn Daugherty to develop and market Biotechnology by Ellyn Daugherty™, a series of engaging, hands-on laboratory kits to accompany the best-selling textbook and laboratory manual "Biotechnology: Science for the New Millennium." Designed for introductory courses, this program teaches the concepts and hands-on lab procedures required for entry-level careers in the rapidly growing biotechnology industry.
The complete program now consists of a textbook, laboratory manual, and easy-to-use, convenient laboratory kits. The first two kits in the series include Direct Enzyme-Linked Immunosorbent Assay (ELISA) of Bacterial Alpha-Amylase, and Ion-Exchange Chromatography.
Direct ELISA of Bacterial Alpha Amylase - In this lab activity, students learn how to determine if a protein is present in a solution and determine the concentration of that protein using direct ELISA analysis.
Ion-Exchange Chromatography - In this lab activity, students explore the principles of ion-exchange chromatography by separating lysozyme from amylase. They then analyze the fractions using a spectrophotometer and examine the absorbance data to evaluate the separation efficiency.
Crosscutting Concepts plans to launch eight additional lab kits in the coming months, including polyacrylamide gel electrophoresis (PAGE), western blotting (protein immunoblot), restriction digestion of DNA, bacterial transformation of E. Coli, polymerase chain reaction (PCR), and plasmid preparation.
About Ellyn Daugherty - Ellyn Daugherty is a veteran biotechnology educator and recipient of the Biotechnology Institute's National Biotechnology Teacher-Leader Award. She is the founder of the San Mateo Biotechnology Career Pathway (SMBCP). Started in 1993, SMBCP has instructed more than 4,000 high school and adult students. Annually, 30-40 students complete internships with mentors at more than 25 area biotechnology companies.
About EMC Publishing - EMC Publishing is a premier publisher of learning solutions including textbooks, supplements, technology, and assessments for the K-12 market. Founded in 1954 in St. Paul, Minnesota, EMC established itself as a leader in World Language education and has expanded into other academic fields including Literature and the Language Arts and Economics. EMC has partnered with its sister company, Paradigm Education Solutions, to develop tools in Applied Science and Computer Technology—preparing students for post-secondary and career success.
About Crosscutting Concepts - Crosscutting Concepts develops, manufactures, and markets innovative hands-on science education products for high school and post-secondary education. Our passion is to show students the freedom that a strong understanding of science can provide. Crosscutting Concepts is the creator of the Mystery of Lyle & Louise, a premier forensic science curriculum designed for high school and introductory undergraduate education, and Desolation: STEM, a program that compels students to solve problems through a hands-on process involving design, development, evaluation, and improvement.