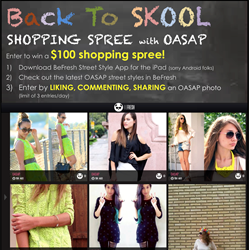 In future, OASAP will seek for collaborations with various styles of App.
New York, NY (PRWEB) September 06, 2013
Recently, OASAP Ltd. reached a collaboration agreement with BeFresh. BeFresh is an iPad App where the fashion lovers can see the FRESH-est styles and fashions from around the world.
OASAP Ltd. declared that Oasap.com will share its commodity data with BeFresh from September. By then, the users will be able to place orders at anytime when they are browsing trending pieces on BeFresh, such as 2013 fall trends,fall 2013 women's clothing, and etc.
"For a long time, most of fashion Apps only shared pictures to the potential customers, and since the pictures did not link back to the source sites, the customers could not buy the products from the Apps directly. Now OASAP has perfectly solved this problem with their collaboration with BeFresh."
Currently, BeFresh has accumulated an abundant of content and fashion topics from those well-known websites and personal bloggers; in fact, it has reached collaborations with ModCloth, Sugarlips, ASOS and NastyGal last month.
"BeFresh will upload OASAP product pictures to the App, for instance, the pictures of trending cropped cardigans, biker jackets, one-button Blazer and so on; while OASAP will promote BeFresh on Facebook and Twitter," Mrs. Yuki said, disclosing some details about the collaboration between OASAP and BeFresh.
About OASAP.COM
OASAP is: A High-street Fashion Online store
OASAP likes to: Deliver fashion & love!
OASAP is a global online store dedicated to high-street fashion by offering various kinds of women's apparel, bags, shoes, jewelleries, accessories, beauty products, etc.
OASAP was founded in late 2011, and it keeps on updating products at a high rate every day. with more than 300 new products each week. Those products mentioned definitely belong to the latest fashion trend.