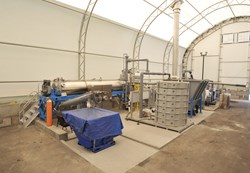 Plant personnel from neighboring facilities are already flocking to see Rio Dell.
Rio Dell, CA (PRWEB) September 18, 2013
State-of-the-Art Biosolids Dryer Made Scalable and Affordable: City of Rio Dell's Wastewater Treatment Plant began a comprehensive renewal project in 2010. Phase 1 included upgrades to the headworks–screening and grit removal systems, a sodium hypochlorite generator to replace the gas chlorination system, and a sludge dewatering building from Clear Span with an Aeromod Tritan™ Belt Filter Press. Phase two consisted of a $13 million upgrade: a new Aeromod BNR Treatment Plant, purchase of an effluent disposal site and a Therma-Flite biosolids dryer to reduce volume and produce a Class A product.
Rio Dell: A Brief History. Though upgrades at the Rio Dell plant represented substantial progress in plant modernization, Rio Dell's Plant Superintendent wanted to add a biosolids dryer to solve his end-product disposal worries once and for all. "After Phase 1 of the redevelopment, we were still under-budget and I felt the dryer would be the key to a complete solution for Rio Dell," explains Chicora who first uncovered the Therma-Flite equipment through his own research. Creativity and resourcefulness for the Rio Dell project did not end with equipment. Rio Dell's Finance Director, Stephanie Beauchaine found wonderful financing designed for small communities; The SRF funding, dubbed "half principal forgiveness" is underwritten by the EPA. Dispensed through the California Water Resources Control Board, "half principal forgiveness" was created to help small outlying communities renew their infrastructures and meet current mandates. It acts somewhat like a federal grant and for Rio Dell, it was a key element in the upgrades.
Therma-Flite's IC800 dryer was selected by Wahlund Construction, primarily due to the cost savings it offered over the competitor. HDR Engineering, Inc (Folsom, CA) had put the project out to bid, discovering only two companies offered biosolids dryers suitable for Rio Dell's output levels and requisite footprint. HDR's Craig Olson worked closely with Rio Dell and Therma-Flite to verify requirements. The liaisons proved very productive. Rio Dell provided specs about their sludge--WAS (waste activated sludge)--which is relatively basic and not full of FOG. There was some question as to whether Rio Dell's sludge specs would vary after the new treatment plant became operative. The new Aeromod BNR plant came online in late February and the sludge remained principally unchanged. "Looking back, everyone has been quite satisfied with the performance of the Therma-Flite equipment and the quality of the personnel they sent onsite," reflects HDR's Craig Olson.
Rio Dell had been using open air drying beds and an Aeromod Belt Filter Dewatering Press but its end product was still too wet and voluminous to be accepted at shrinking landfill options locally. Their yearly output of 400 yards is way over the requirments. They would need to reduce to about 60 yards per year. Here is where the dryer comes into play. The Therma-Flite IC Dryer will effect a 75% reduction in volume, producing a Class A end product void of the problems and costs attached to their current product. Class A will be spreadable as fertilizer at various properties in the city and may even be saleable locally. The whole idea is to eliminate the seasonal problems of storage and disposal and to protect local watershed.
Therma-Flite Bio-Scru dryers are continuous feed, fully automated (PLC-controlled) requiring minimal operator interaction, good news for the small-staffed plant at Rio Dell. The Therma-Flite dryers employ an indirect screw-type heat exchange means consistent, accurate thermal processing of a variety of feed stocks. The technology has been proven in a multitude of industrial applications for decades. Bio-Scru dryers are highly adaptable and can be slowed or accelerated to handle sludges that are either wetter or dryer. The IC Series' dual intermeshing rotors are self-clearing, eliminating clumping and yielding a uniform Class A end product. Sealed anaerobic chambers make these dryers cleaner, safer, and simple to operate.
Installed, Integrated and Commissioned. The IC800 dryer from Therma-Flite fits neatly under the same roof as the already-operational belt filter press equipment and arrived pre-plumbed, making initial start-up go quickly. Wahlund Construction, Inc. did the construction onsite, with Bret Rinehart as project manager. Wahlund has considerable experience in wastewater plant construction, but this was their first dryer installation. Bret Rinehart recalls, "It exceeded our expectations and more importantly, Rio Dell is very pleased. Final approval on the performance testing was completed in July." The performance test went well, the dryer produced an impressive Class A final product. It should be noted that this installation requires a complex integration of components. The end-goal was to have the entire system tied in to Rio Dell's SCADA system. Therma-Flite's system requires minimal operator attention but essentially, once the SCADA system is integrated, Rick will be able to monitor it from his living room couch.
Views from the Client-side. "Everything is progressing nicely. It is the culmination of 2 years of work" according to Rio Dell's Rick Chicora. "The current plan is to spread the product on city parcels and to make it available to residents for their use as well. The other operators who have come to see it, all want a dryers for their plants. Ferndale upgraded a few years ago but still doesn't have a dryer. We expect a lot of visitors. City Hall is excited and planning a Grand Opening event. Therma-Flite has done us proud."
About Therma-Flite: Since these early beginnings, Therma-Flite has continued to develop and re-evaluate the heat exchanger screw conveyor industry. Our processors have lasted longer, processed more, and handled more materials than any other manufacturer in the world. Using different construction materials, varied flight designs, new rotor configurations, diverse heat transfer mediums, and custom designing nearly every project, Therma-Flite has not only set the bar – we have completely re-engineered it.