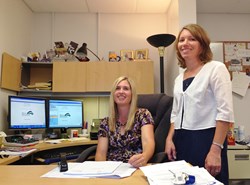 It was a good time for Ravalli County to re-evaluate their situation, and Black Mountain Software was happy to participate in that process with them.
Polson, Montana (PRWEB) September 05, 2013
It's a situation that typically strikes fear in the heart of a small business: a valued, long-time client announces a vendor re-evaluation and issues a Request for Proposal (RFP).
When the Ravalli County organization (which includes the Clerk & Recorder office plus Finance, Tax, Human Resources and IT departments) broke the news to Black Mountain Software that the county planned to reassess their software situation in 2012-2013, Heather Neff, Director of Sales and Marketing for Black Mountain Software, remembers feeling a bit nervous, but also confident and up for the challenge.
"It's not like they were unhappy," stated Neff. "They were just being good business people. Over the 10 years we had served Ravalli County, document volumes had increased significantly, demands for increased automation and government transparency had skyrocketed, and the County Commissioners were questioning whether the annual lease option that they had chosen for Black Mountain Software was giving them the best value for the money. That all pointed to it being a good time for Ravalli County to re-evaluate their situation, and we were happy to participate in that process with them."
Ensuring the best value for the money and the best software for the job were key goals of the County's accounting software review. They also felt that in this world of rapidly changing technology, it was important to understand how well Black Mountain Software was keeping up with technology and to see what new solutions might be "out there" to enhance local government financial and tax processes.
Klarryse Murphy, Ravalli County Chief Financial Officer, explained that at the conclusion of the RFP submission review, Black Mountain Software (BMS) came out on top, receiving a score of 94.5 out of 100 possible points available in the County's evaluation system. Ravalli County decided to stay with BMS for all financial and tax software products, which was 7 out of 8 software applications out for bid. The county also decided to purchase BMS products rather than continuing to lease. These decisions are now saving Ravalli County tens of thousands of dollars annually.
Black Mountain Software also feels the RFP process was helpful to their organization. "We identified some features of our products that we needed to train Ravalli County staff on in order to help them achieve maximum benefit from our products and services," explained Neff. "And we confirmed our belief that we offer excellent products and value when compared to key competitors. Our company has a renewed sense of excitement and commitment to serving Montana Counties exceptionally well."
As summarized in the closing paragraph of the case study, Ravalli County and Black Mountain Software believe their experience has proven that client-vendor relationship re-assessments are "good business" for all organizations, and can yield positive results for everyone involved.
Black Mountain Software, Inc. is a Montana-based provider of fund accounting, payroll and utility billing software for local governments and schools. More than 500 city and county governments, utility and special districts, and schools in 25 states rely on Black Mountain Software products to ensure regulatory compliance, improve operational efficiency and foster collaboration.