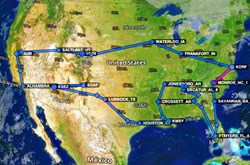 Virginia Beach, VA (PRWEB) September 05, 2013
The Engine is roaring, the tank is full, and the pilots are camera ready. The summer season may be sizzling out but the sizzle is just getting started for Virginia's Aerial and Ground Photography business Aerophoto America. The photographers of Aerophoto America are thrilled to announce another annual cross country trip across the United States for 2013.
This trip will begin on the east coast starting with photographing a few sites in North Carolina and moving all the way south to the southeastern tip of Florida in Fort Myer. Aerophoto America's team will swoop through several cities such as Alabama, Tennessee, Arizona, Arkansas, Louisiana, New Mexico, California and more to capture sites for clients all along the United States. This will now be the third consecutive year in a row that Aerophoto America will get to make this a aerial photography trek across the country.
Aerophoto America's Photography team's glowing grins by no means imply they are about to do work. "Not everyone can say they love their day job but not everyone gets to see America from above on their day job either" stated the team. The flight will include photographing sites for clients but will also include capturing the highlights of the cities to keep in the photo library of stock aerials of the United States has earned its place as their favorite part.
The team knows that it's always an adventure when flying across the country. They can't wait to see what Mother Nature prepares for them for this year 2013 trip. We all will be anxiously waiting to see the beautiful aerial photographs from this trip. Feel free to follow Aerophoto America's routes through updates on Facebook at https://www.facebook.com/aerophotoamericaphotography. Find out further information about other photography services offered by Aerophoto America at http://www.aerophotoamerica.com.