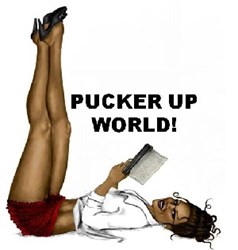 Books and babes, it doesn't get more Brooklyn than that!
BROOKLYN, NY (PRWEB) September 03, 2013
The 8th annual Brooklyn Book Festival, arguably the best and most anticipated book festival in New York, once again brings together Noir A-Go Go and hundreds of authors and booksellers.
On Sunday September 22 from 10-6, No ir A-Go Go, the online gift store responsible for introducing Black pinup girl-themed greeting cards, compact mirrors, tote bags, and magnets, among other novelty gifts, will share a table with the esteemed Harlem Writers Guild. K.C. Washington, the gift stores' owner and designer, is also a novelist and member of the Guild.
"I love the Brooklyn Book Festival. The crowd is amazing and so supportive. They truly come out for the writers and other vendors," says Washington.
The Noir A-Go Go/HWG table along with offering books by the wildly popular writer Grace Edwards of the "Mali Anderson" mystery series (all of which are set in Harlem) and first time novelist Eartha Watts-Hicks whose novel "Love Changes" is just out, will also have new products such as compact mirrors, kerchiefs and tote bags, and great deals from the Black pinup girl company.
Beginning at the foot of the beautiful Brooklyn court house (209 Joralemon Street) and running along Court Street toward Brooklyn Heights, the festival, along with a children's section and booksellers, also offers tons of free readings by some of Brooklyn and NYC's best writers such as Colin Channer, Pete Hamill, Meg Wolitzer, and Edwidge Danticat.
"Books and babes, it doesn't get more Brooklyn than that!"
About Owner and Designer K.C. Washington
K.C. launched Noir A-Go Go in January 2011, with the idea that something was missing within the American pinup girl genre, namely women of color. So she decided to put what she calls a sepia spin on the beloved genre and Noir A-Go Go was born. Convinced that the world is more than familiar with the image of African Americans fighting for their rights during the Civil Rights era, she wants to show another image from that time---one of glamour and wit. A Mellon Fellow and a novelist with a background in journalism and literary and historical fiction, K.C. has raised the curtain on a world of beautiful, empowered, stylish women (and a few men) and placed them on everything from magnets and tee shirts to tote bags and greeting cards, with more to come as she expands.