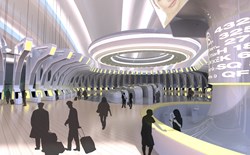 Using practiced ideation methods, TXS designers developed concepts grounded in reality yet made technological assumptions to create a blue sky idea.
Richardson, TX (PRWEB) September 10, 2013
Traveling by air is a stressful experience. The thought of making it on time to the airport, dealing with complicated check-in systems, anxiously standing in line at the security check, and not knowing how long it will take to arrive at the gate is enough to raise anybody's blood pressure. What if airlines could offer an improved service that provides the customer with a user-friendly experience from the moment they enter the airport to the moment they are buckled in their seats?
TXS has addressed these issues and is unveiling the "Concept FlightPass" at the APEX EXPO, Sept 9th. Flight-Pass is a flow system that encourages and guides passengers to peacefully follow a logical, efficient process at the airport. The system incorporates a new interactive ticket that is the key to the procedure and will reduce feelings of intimidation, and apprehension.
Airport security today is a collection of reactive systems and processing based on past security events. These systems are layered upon each other with no attention to integration. Because of this the user experience is stressful and frustrating.
TXS asked the question: How can the travel experience be improved to create a more user-friendly environment and how can the enjoyment of travel be renewed? Magnus Skold, Design Director of TXS commented, "Using practiced ideation methods TXS designers developed concepts grounded in reality yet made technological assumptions to create a blue sky idea. The intent was to solve some of the real world problems but with a high level, idealized approach." After brainstorming and analysis, a flow-system was created, from which many ideas have been extrapolated. Concept FlightPass offers a view of the future and invites a conversation with the airline industry.
About TXS Industrial Design
For over 30 years, TXS Industrial Design has been developing products for various sectors of the aircraft industry as well as other industries. They pride themselves on providing a seamless product development experience driven by a creative mindset. Clients hire TXS because of their ability to think macro as well as micro, combining blue-sky with real world experience, creating real innovation. Throughout the development cycle, they encourage close communication with their clients. These collaborative relationships guide their expertise in achieving your design and marketing goals.