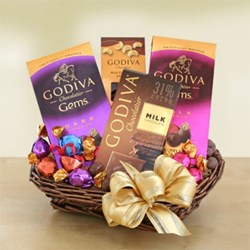 Going through the large number of products that we offer can get tough and sometimes tiring too. This is why Print EZ has created categories to help make the search for the right product much easier
Monroe, NY (PRWEB) September 10, 2013
Food gifts retailer Print EZ has recently launched a large number of new products in the food gifts section of their website. New additions are pouring in each day. Company sources say that Print EZ realizes customers now demand a much larger variety than ever before. And the company seems to be bent on ensuring that all the choice required is offered right on their website.
"Print EZ ensures that its customers get as much variety as they can possibly handle on the Print EZ site itself. The strategy has been to add new products catering to all kinds of customer needs regularly. This ensures that there is always something new when the customer revisits the site," says CEO Morris Rose.
In the food gift section, Print EZ now offers new products under chocolate gifts, coffee & tea gifts, occasions, gourmet foods, wine gifts and specialty baskets. Each of these is sub categorized into further niches. The occasion category includes get well gift baskets, thank you food gifts, wedding gifts, sympathy gifts and many more. The wine gift category includes beer gift baskets, champagne gifts, wine & cheese gifts and wine & chocolate gifts. According to company sources, the sub sections have been created to make it easier for the customers to browse through the now larger number of options available. "Going through the large number of products that we offer can get tough and sometimes tiring too. This is why Print EZ has created categories to help make the search for the right product much easier."
The company has tied up with some of the best suppliers in each category. Coffee from Starbucks, wine from Napa Valley in California and chocolates from Godiva and Ghirardelli are only a few of the sourcing collaborations that the company has finalized. "The company believes that the customers deserve to get the best products when they order from print EZ. This is why each and every product that is available has been designed with a lot of thought," according to the marketing manager."
Before the launch of this product line, each and every category was debated and diagnosed by the team. Each product has been designed keeping in mind the exact occasion or need that a customer may have. This also makes the process of choosing products much easier for the customer.
What makes the Print EZ site efficient and valuable is the fact that there is something for everyone. The range of products spans specific needs, price brackets, food items and packaging. Irrespective of whether a customer wants to purchase something for $20 or $200, there are various products in each range that a customer can choose from.
Customer service is impeccable and the products are shipped within 48 hours if not earlier. Orders can be tracked online with the unique order number and food gifts can also be personalized with a custom message. With large orders there is also an option of imprinting ribbons and tags that go along with the food gifts. With efficient customer service, quick deliveries, a large range of products, Print EZ has made its mark in the food gifts niche as much as it has in the printing niche today.
Get more information about how Print EZ offers and new launches on Food Gifts Baskets at http://www.printez.com/food-gifts.html or call the company at 1-888-246-0635.
To read more about shop-by-price-food-gifts click here http://www.printez.com/shop-by-price-food-gifts.html.
To read more about gift-baskets click here http://www.printez.com/gift-baskets.html.
Print EZ
4 N Main St.
Monroe, NY 10950
(845) 782-5832