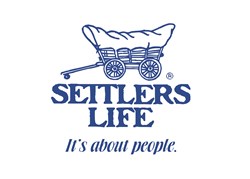 Bristol, VA (PRWEB) September 09, 2013
Settlers Life Insurance Company is pleased to announce that the A.M. Best Company has re-affirmed its A- (Excellent) financial strength rating with a stable outlook.
This marks the sixth straight year that Settlers Life has maintained this rating. Maintaining this excellent rating is a testament to Settlers Life's dedication to meet the obligations of policyholders for the long-term. Michael Lowe, President of Settlers Life, stated that, "We know the rating we receive from A.M. Best is significant to our policyholders and agents. It is significant to us, too. We work all year to be the best we can be. While much of what the Settlers Life team accomplishes each day is invisible to outsiders, this rating is an affirmation of our good work. So we're proud, and we hope our policyholders and agents are well pleased."
Settlers Life Insurance Company is a member of the NGL Insurance Group, and maintains its primary administrative office in Bristol, Virginia. Settlers Life has 73 employees and more than 3,200 independent agents appointed in thirty-six states. Since 2007, Settlers Life has maintained an A. M. Best financial strength rating of "A minus" (Excellent), the fourth highest of sixteen such ratings. A.M. Best states that an "A minus" rating "is assigned to companies which have, in our opinion, an excellent ability to meet their ongoing obligations to policyholders." A.M. Best is the oldest and most widely recognized rating agency dedicated to the insurance industry.