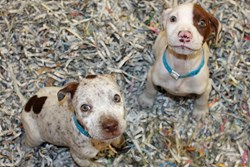 Atlanta, GA (PRWEB) September 05, 2013
As the regular season for the Atlanta Braves comes to an end this month, the Atlanta Humane Society (AHS) is showing its support for the home team by naming adoptable dogs at both campuses after current and former players. That scruffy puppy with the pretty eyes? That's Freddie Freeman. The stocky bulldog mix? Meet Uggla. BJ and Justin Upton are there and so are J-Hey, McCann and Kimbrel.
Adopting a Braves player is just one way to catch Braves Fever at the Atlanta Humane Society. The organization will be making an appearance at the team's game against the San Diego Padres on Sunday, September 15 for the biannual Bark in the Park promotion. While AHS won't be doing adoptions at the game, the organization will be treating a few adoptable dogs to America's favorite pastime. Additionally, Atlanta Beverage Company has pledged to donate $1 to AHS for every Budweiser or Bud Light sold at Turner Field on game day.
Attendees of that September 15 Atlanta Braves game should hold on to their ticket stub! It is good for $20 off a dog or cat adoption or $5 off in the pet supply store at either AHS location during the rest of September.
Bark in the Park tickets can be purchased at http://www.braves.com/bark. The Upton brothers and the rest of the starting lineup can be seen at http://www.atlantahumane.org.